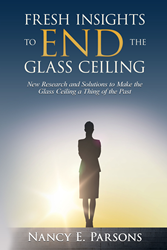 ...a move from no female senior leaders to 30% representation increased profitability by 15%
Nashville, TN (PRWEB) August 22, 2017
"Nancy Parsons' book offers a provocative and compelling theory on why women have yet to break through the glass ceiling in numbers. I found her fresh insights fascinating on both a professional and personal level. There's takeaway here for women themselves but also for management."
-- Kate White, author, The Secrets You Keep; former Editor in Chief, Cosmopolitan Magazine
"This book specifically describes what leadership potential looks like regardless of gender, and dares to show that people's perceptions do not match this reality as seen in national surveys. It is not our strengths that derail our careers; it is our risk behaviors that trip us up."
-- Dr. Leslye McDade-Morrison, HGS Principal; former Chief Learning Officer, Office of the Under Secretary for Defense, Acquisition, Technology and Logistics, the Pentagon
"Nancy Parsons' insightful book is teaching women to be 'warriors' and not 'worriers'! She hits on many of the key factors past and present about the glass ceiling that must be shattered by women in business."
-- Rod Robertson, Managing Partner, Briggs Capital; author, Winning at Entrepreneurship
If the United States maintains its current trajectory, it will take another 400 years for women to attain 50 percent of the CEO positions, reveals Nancy E. Parsons, President of CDR Assessment Group, in her groundbreaking new book, Fresh Insights to End the Glass Ceiling (Leader Voice Publishers, August 29th, 2017, ISBN-13: 978-0692855744).
It has been nearly four decades since the Pregnancy Act of 1978 went into effect, she reports, and yet only 5.8 percent of today's Fortune 500 CEOs are women, and only about 14 percent serve as corporate executives. Meanwhile, nearly two-thirds of today's college graduates are women.
In Parsons' latest research, based on her company's extensive personality and risk assessments that have been used around the globe for decades, she has identified the glass ceiling's often misunderstood root cause and why it has remained such a fixture in American business. The results are surprising--and also expensive for commerce.
The glass ceiling costs organizations billions of dollars a year in lost opportunities and performance. Study after study has shown that companies with strong female leadership generate a 10 percent return on equity per year. Another study found that for profitable firms, a move from no female leaders to 30 percent representation increased profitability by 15 percent.
In 1987, the book Breaking the Glass Ceiling (Basic Books) suggested, "Many women have paid their dues, even a premium, for a chance at a top position, only to find a glass ceiling between them and their goal. The glass ceiling is not simply a barrier for an individual, based on the person's inability to handle a higher-level job. Rather, the glass ceiling applies to women as a group who are kept from advancing higher because they are women." Here America stands three decades later, with only 14 percent of the top five leadership positions at S&P 500 companies held by women. Parsons has channeled her passion for effective leadership and corporate development into her new book as a solution for women--and for companies.
Fresh Insights to End the Glass Ceiling answers many important questions at this critical juncture in corporate America:

Are there real gender differences in leadership traits?
What are the true causes--and effects--of the glass ceiling?
How have some women made it to the top, in spite of the barriers?
What are the solutions to END the glass ceiling once and for all in our country?
With quizzes to test knowledge about the glass ceiling, and an eye toward breaking the long-held myths about women in leadership, Parsons shares both new research and new solutions alongside action plans for c-suite/executives, interest groups, talent-development professionals and individuals (both women and men) so that the glass ceiling may be shattered once and for all.
To purchase a copy of Fresh Insights to End the Glass Ceiling, please visit http://cdrassessmentgroup.com/nancys-new-book/ or Amazon (goes on sale on August 29, 2017.)
Nancy E. Parsons is one of today's foremost experts in combining the science of assessments with the art of developing people. Parsons co-developed the CDR 3-Dimensional Assessment Suite®, which has been used to coach leaders around the globe for nearly two decades. She is president of CDR Assessment Group and specializes in cutting-edge psychological assessments for executive coaching, Authentic Leadership Workshops, team development, and succession planning and selection. In addition, Parsons serves on the leadership team of The Alexcel Group, an international consortium of executive development experts. Follow Nancy on Twitter @neparsons, Facebook, and LinkedIn.
CDR Assessment Group was founded in 1998 to provide unmatched assessments and leadership and talent-development services for global clients. CDR is a nationally certified women-owned business (WBENC, WBEA). To learn more about CDR's tools and services, visit cdrassessmentgroup.com or follow them on Twitter @CDR_Assessment, Facebook, and LinkedIn.