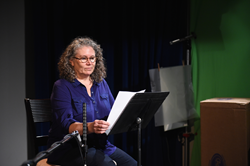 Lisa Bickmore's fine collection is filled so abundantly with aesthetically, intellectually, and emotionally quenching poems ... I felt no need to do anything other than read the book again for its myriad pleasures
Salt Lake City, Utah (PRWEB) August 22, 2017
Salt Lake Community College poet laureate and professor Lisa Bickmore recently released her latest book of poetry, titled Ephemerist. She will read from her new book Aug. 24, 7 p.m. at The King's English Bookshop and Oct. 26, 7 p.m. at Westminster College's Bill and Vieve Gore School of Business auditorium.
Bickmore's poems and video work have appeared in numerous publications, including Quarterly West, Tar River Poetry, Caketrain, Sugarhouse Review, The Moth, Terrain, Mapping Salt Lake City, and Southword. Her literary awards include the prestigious Ballymaloe International Poetry Prize for 2015 for her piece "Eidolon," the 2014 Antivenom Prize for her second book, flicker, and the Salt Lake City Mayor's Artist Award in the Literary Arts in 2008. She is one of the founders of SLCC's Publication Center, teaches poetry and writing, and is the assistant associate dean for the SLCC English Department.
In Ephemerist, the speakers of the poems imagine many provisional homes. They make a study of shelter: in the harbors of memory; in art's forms and improvisations; in spirit houses; in the body. Each proves transient. In these poems, each speaker finds that the places she thinks she knows are, in the end, knowable only tangentially and partially, if at all. Shelter is a pharmakon, a substance that is both medicine and toxin. The book imagines, as substitution and remedy, a practice of making what cannot last, what will always disappear, a practice that might be termed ephemerism.
"In this collection, Ephemerist, Lisa Bickmore takes articulate stock of much that is passing before her eyes, and she presses both their presence and their passing for significance," said poet Scott Cairns, program director of the MFA in Creative Writing at Seattle Pacific University and author of Slow Pilgrim: The Collected Poems. "One happens upon brief consolations along this journey through momentary matter, but the base note here is willingness, the connective tissue is hope, and the last word is light."
"There is no perfect 'capturing' of a moment, whether in word or image, despite our deeply human desire to fix the world in memory," said Paisley Rekdal, poet and U of U professor, and the recently named Poet Laureate of the State of Utah. "Thus the elegant poems of Ephemerist simultaneously celebrate and elegize, meditating on the uncomfortable relationship we've built between earthly loss and spiritual gain: part of transcendence's paradox, which depends upon our losing some part of the world we love in order to gain a greater sense of it."
"In poem after penetrating poem, she tries, and—in language at once memorable in its expressiveness and exact in its ability to describe what Bickmore sees and feels—she succeeds, all the time attentive to the world outside herself and sharply attuned to the inner lives of others," said Portland-based poet Andrea Hollander, author of Landscape with Female Figure: New and Selected Poems. "Few books of poetry, once consumed, leave me feeling 'emptied...of nearly every desire,' but Lisa Bickmore's fine collection is filled so abundantly with aesthetically, intellectually, and emotionally quenching poems that after my first journey through its pages, I felt no need to do anything other than read the book again for its myriad pleasures."
Salt Lake Community College is an accredited, student-focused, comprehensive community college meeting the diverse needs of the Salt Lake community. Home to more than 60,000 students each year, the College is Utah's leading provider of workforce development programs. SLCC is also the largest supplier of transfer students to Utah's four-year institutions and a perennial Top 10 college nationally for total associate degrees awarded. The College is the sole provider of applied technology courses in the Salt Lake area, with multiple locations, an eCampus, and nearly 1,000 continuing education sites located throughout the Salt Lake Valley. Personal attention from an excellent faculty is paramount at the College, which maintains an average class size of 20.