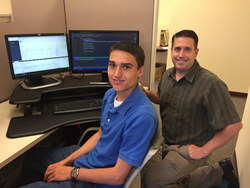 Payroll City CTO Adam Fox works with local Intern on cutting-edge payroll platform development
COLORADO SPRINGS, Colo. (PRWEB) August 23, 2017
Payroll City today announced that it is accepting applications for tech-savvy interns ages 16 and older. These interns will grow their programming talents in a hands-on environment with the guidance of the senior team responsible for developing the company's sophisticated cloud-based payroll and HR solutions.
Interns accepted to this challenging program will:

Work part-time as a paid programming intern for one year
Learn the latest enterprise software, programming and coding techniques hands-on
Get a $1,000 scholarship and letters of reference if they plan to continue their education
Have the opportunity to join the Payroll City team as a part- or full-time programmer
"We already rival payroll market giants in terms of functionality and ease of use," said Kathleen Fox, president. "While we advance the software, we want to advance the skills and opportunities of local young people who might not know they can have a rewarding career right here in Colorado Springs."
"We brought in two interns through the summer to help with development and I was impressed with their talent and ability to grasp the advanced programming concepts," added Adam Fox, CTO. "Constant software updates are always being developed, and I am excited for the opportunity to continue to help mentor and advance the skills of the amazing young talent we have locally."
For full details on internship requirements, please visit http://www.payrollcity.com/careers