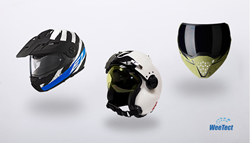 WeeTect Applied Head-up Display Helmet Visor
Shanghai (PRWEB) August 23, 2017
WeeTect, a global leader in designing and manufacturing helmet visors, today begun upgrading its helmet visors with heads-up display (HUD), alongside its uniquely designed augmented reality systems in an effort to improve safety of riders. The company has since introduced WeeTect HUD Helmet Visor (WHUDHV), which it intends to use in supporting its partners to develop their own smart helmets.
A recent research conducted by WeeTect team, established that a number of motorcycle crashes have been attributed to divided attention by riders besides, the inability to have a clear rear view.
As a company with the know-how in producing thousands of pilot visors for many years, WeeTect has begun the process of applying this technology to other visors and goggle lenses. Head-up or heads-up display (HUD) is a unique technology that projects information on the helmet visor and therefore, the rider or pilot can access all information behind him/her while still focusing on the journey ahead.
"HUD is a new technology that we have successfully incorporated in many pilot visors over the years and we are certain it will guarantee safety when fully incorporated in helmet visors and goggle lenses," said Taylors Lei, WeeTect product manager. "With a 360° degree view, WeeTect is committed to ensuring safety of every rider."
Safety of motorcycle riders is one aspect that has been ignored for years despite the many fatalities. Even some helmet visors and goggle lenses that feature this technology do not use certain coatings that improve their performance.
According to WeeTect, live streaming of information behind the rider is just one aspect of safety. Other coatings such as hydrophilic anti-fog coating, anti-scratch coating, hydrophobic coating and photochromic coating play a significant role.
Still, preventing possible fogging or scratches on the visor is necessary. This explains why WeeTect helmet visors and goggle lenses with heads up display and augmented reality feature certain types of coating.
Furthermore, WeeTect is in the process of including appropriate proximity warnings that will make helmet visors and goggle lenses more interactive. WeeTect applying heads up display helmet visor from pilot visor to augmented reality helmet visor is based on the company's technical know-how and years of research.
Depending on the clients' requirements, WeeTect helmet visors and goggle lenses will feature heads-up display alongside appropriate technologies.
For more info, please visit https://www.weetect.com/helmet-visors/hud-helmet-visor/
About WeeTect
WeeTect Material Limited manufacturers lens & visors for OEM businesses. Since 1993, the company has invested in R&D, producing many polycarbonate coatings.
The latest in its product line are WeeTect Augmented Reality Visor (WARV) and WeeTect HUD Helmet Visor (WHUDHV).
Contact Details:
Name: Taylors Lei (Product Manager)
Email: sales(at)weetect(dot)com
Phone: +86-1381-690-5765
Website: http://www.weetect.com