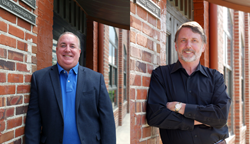 "The knowledge and expertise both Tony and Pat bring will help support our expansion into new verticals and geographies, along with preparing us for our next round of funding."
Orlando, FL (PRWEB) August 23, 2017
UniKey Technologies, leaders in smart access control platform technology, announced two key additions to their Senior Management team: Tony Moschella as Chief Financial Officer and Pat Hanavan as Senior Vice President of Product. Tony and Pat join UniKey to help support the company's accelerated growth and market leadership expansion plans. This news comes after UniKey successfully raised additional capital earlier this year.
Tony brings a wealth of experience to UniKey having spent more than 20 years in senior financial roles in the software and consulting industries. His experience includes driving two IPO's and over thirteen mergers and acquisitions at previous companies. Most recently, Tony worked for global giant, Chiquita Brands International, as VP of Finance and Chief Accounting Officer and holds numerous certifications, including CPA, CIA, CFE and CGMA. As UniKey's CFO, Tony will lead the company into future growth and investment plans.
Pat is an award-winning executive who has dominated the technology industry for the past 20 years, holding leadership positions at Symantec, VERITAS, Seagate Software, and Arcada. Prior to UniKey, he co-founded Zamurai Corporation, a digital whiteboard solution, which was acquired by LogMeIn, Inc. eighteen months after creation. With his extensive knowledge of technological trends, he has accomplished both domestic and global achievements within multiple industries. As Senior Vice President of Product, Pat leads the way with all UniKey powered solutions, while ensuring the overall user experience and quality of UniKey partner products.
Phil Dumas, President and CEO of Unikey, states "We're very excited for the new additions to UniKey's Senior Management team. The knowledge and expertise both Tony and Pat bring will help support our expansion into new verticals and geographies, along with preparing us for our next round of funding."
After recent announcements of expansion into the commercial IoT industry through partnerships with Nortek and Grosvenor, UniKey now maintains a foothold in the residential and commercial markets and expects to continue market leadership in the mobile access control space.
###
About UniKey
UniKey Technologies is the industry leader and pioneer of smart lock and access control platform technology. UniKey provides companies and manufacturers the ability to rapidly develop and deploy smart lock or access control products on a proven, scaled and secure platform. For more information about UniKey Technologies, please visit http://www.unikey.com.