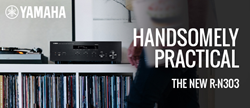 "The R-N303 delivers exceptionally high performance, versatility and value, reflecting the Yamaha commitment to music and to Hi-Fi enthusiasts," said Robert Goedken, general manager, AV division, Yamaha Corporation of America.
Buena Park, California (PRWEB) August 22, 2017
It has been more than 60 years since the Yamaha Hi-Fi Player, the world's first audio component bearing the "Hi-Fi" name, was released in 1954.
Today, Yamaha is leveraging six decades of engineering leadership in Hi-Fi with the introduction of the Yamaha R-N303 network Hi-Fi stereo receiver, which connects to a wide array of legacy and modern music sources ranging from turntables to on-line music-streaming services. The R-N303 delivers on sound quality on all music and exceeds expectations for its price in a package that is as handsome as it is practical.
The stereo receiver reproduces music with exceptional quality and clarity from music content stored on networked computers, on-line music-streaming services, and mobile devices as well as from turntables and CD players. The R-N303 also features Yamaha MusicCast wireless multiroom technology, that distributes music throughout the house to other MusicCast-enabled products — including Yamaha AV receivers, sound bars, and speakers — all controlled wirelessly from an app on a mobile device.
"The R-N303 delivers exceptionally high performance, versatility and value, reflecting the Yamaha commitment to music and to Hi-Fi enthusiasts," said Robert Goedken, general manager, AV division, Yamaha Corporation of America. "It is a practical choice for enthusiasts who want to enjoy an array of music sources from vinyl to high-resolution audio files stored on networked devices. The R-N303 also inherits the simple and sophisticated design unique to Yamaha with an elegant hairline finished front panel and the aesthetic that harmonizes beautifully with other Hi-Fi audio equipment."
Connectivity options include Wi-Fi, Bluetooth®, Apple® AirPlay®, DLNA® and ethernet. Through Wi-Fi and ethernet, the receiver also connects to a broad selection of music-streaming services, including Spotify, Pandora®, Deezer, Napster, SiriusXM Internet Radio, TIDAL, and thousands of free internet radio stations. DLNA provides the ablity to access music on networked PCs, network attached storage devices and DLNA enabled mobile devices. AirPlay allows Wi-Fi connections to Apple mobile devices and iTunes® music libraries on computers. A wide variety of supported high-resolution formats include 192kHz/24-bit FLAC, WAV and AIFF and 2.8/5.6MHz DSD.
The receiver is built for Hi-Fi and delivers expectation-shattering sound quality from any source. Based on a legacy design, the R-N303 is engineered to reduce noise while preserving audio-signal quality, additionally, the receiver features a Burr-Brown 192kHz/24-bit DAC (digital-to-analog converter) capable of handling high-resolution music files with a high signal-to-noise (S/N) ratio, revealing subtle nuances in music and delivering a sense of spaciousness. Moreover, the Yamaha Original Network Module bolsters S/N performance when playing network- and Bluetooth-connected music sources.
For legacy sources, a dedicated phono input is available to spin vinyl. An optical input and a coaxial input deliver pure digital connections to CD players, Blu-ray Disc™ players, and TVs. The receiver also includes FM/AM tuner and an amplifier with maximum output of 140 watts per channel into 8 ohms.
Pricing and Availability
The Yamaha R-N303 network Hi-Fi stereo receiver will be available August 22 at $349.95 MSRP. To learn more, please visit http://4wrd.it/RN303
About Yamaha
Yamaha Corporation of America (YCA) is one of the largest subsidiaries of Yamaha Corporation, Japan and offers a full line of award-winning musical instruments, sound reinforcement, commercial installation and home entertainment products to the U.S. market. Products include: Yamaha acoustic, digital and hybrid pianos, portable keyboards, guitars, acoustic and electronic drums, band and orchestral instruments, marching percussion products, synthesizers, professional digital and analog audio equipment, Steinberg recording products and NEXO commercial audio products, as well as AV receivers, amplifiers, MusicCast wireless multiroom audio systems, Blu-ray/CD players, earphones, headphones, home-theater-in-a-box systems, sound bars and its exclusive line of Digital Sound Projectors. YCA markets innovative, finely crafted technology and entertainment products and musical instruments targeted to the hobbyist, education, worship, music, professional audio installation and consumer markets.