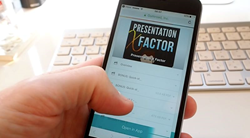 Strong presentation skills are more important than ever
NEW YORK, NEW YORK (PRWEB) August 28, 2017
Presentation Blogger, leader in presentation skills resources, today announced the launch of its new online presentation skills course. The on-demand program is designed to reduce anxiety about presentations and help individuals deliver a clear, confident, persuasive message.
Research suggests public speaking anxiety affects approximately 75% of the population. This anxiety often translates into badly delivered and badly received presentations at the office.
"Nobody teaches first-year business people how to do presentations," says Dave Mac at Presentation Blogger. "We end up copying what our workmates did in their last presentation, and the cycle of boring, anxiety-fueled speeches continues. At Presentation Blogger we've created an on-demand course with a focus on anxiety-reduction, confidence-building, persuasion, and engaging message delivery."
Led by Presentation Blogger's Dave Mac, participants watch, listen, practice, and develop their presentation skills. Using new methods of preparation and practice participants become better able to express themselves clearly and persuade their audiences.
"Strong presentation skills are more important than ever," says Dave Mac. "Being able to communicate a message simply and persuasively can determine how successful you'll be in your job. Take it from someone who learned the hard way: Improve how you sell your ideas or risk getting passed over at work."
The course is organized into five modules:
1. Build
2. Confidence
3. Impact
4. Design
5. Close
Build
The Build module focuses participants on fundamental preparation. It dispenses with the traditional method of slide-based preparation, instead helping learners to plan out presentations with their main message, outcome, and audience in mind-- planning for maximum audience engagement.
Confidence
The Confidence module takes participants through the steps they need to minimize anxiety, minimize stage-fright, and maximize impact when they first open their presentation. Learners will develop their confidence and credibility.
Impact
The Impact module is all about delivery. Participants will discover how to remember what to say in their presentation, and then practice delivering with individual impact. Learners will also develop skills to deal professionally and seamlessly with unexpected situations.
Design
The Design module introduces learners to slide design and best practices. Learners develop the skills to design slides that will support their presentation without overshadowing the presenter. Learners also understand how to add impact elements into their slides appropriately.
Close
The Close module leads participants through the steps necessary to close a presentation and handle audience questions smoothly. Learners will practice techniques for wrapping-up the presentation on a positive note.
Pricing and availability
A lifetime membership to Presentation Blogger's online course, Presentation X Factor, is available on-demand for $47 per person. The course is compatible with any device or computer.
About Presentation Blogger
Presentation Blogger dot Com offers advice, training, and coaching focused on the most effective and time-efficient methods to improve business communication, public speaking, and presentation skills.