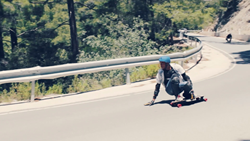 After years of development, we have achieved the most unique combination of features that a board can offer to its owner, without using maple tree wood for production.
USA (PRWEB) August 24, 2017
One of the most innovative Cypriot start-up companies Capsule Skateboards, launched its international campaign through the well-known Indiegogo crowdfunding platform. Through this campaign, the goal is to present and promote to the market the series of unique innovative and disruptive skateboards and longboards made with materials that have never been used. The unique formula used to create these products makes them much more durable, environmentally friendly while guaranteeing an incredible user experience. Capsule's campaign on this platform marks a big step for the business. Skateboarding and longboarding enthusiasts are able to pre-order the leading products with at least 30% discount from retail pricing, thus helping Capsule Skateboards grow further and penetrate foreign markets. It is important to note that crowdfunding platforms have received particular attention in recent years and are one of the main ways to promote innovative products and access to other markets.
So far, traditional skateboards are made from maple trees and have an average use time of one month. Capsule, after careful research and several years of development and continuous testing, has created next generation products using a completely new technology that does not use the maple tree, but uses other more durable materials that are affordable and fully recyclable. These products are safe and environmentally friendly and their new structure is 6 times stronger and thus more durable than traditional, 100% recyclable and with high impact resistance that minimises the risk of injuries. They are also waterproof, weather-resistant, slide faster and enable higher jump.
Skateboarding and longboarding are extremely enjoyable sports, practiced by millions of people worldwide! It is a fact that most of these sports fans buy more than four boards per year, which makes them expensive at a high cost due to their short life span. In addition, the durability of traditional boards is the same, since most manufacturers use the maple wood as the main material, which today is in danger of being eliminated. Capsule Skateboards offer a solution to this environmental issue as with every purchase of skateboards or longboards, you can help save 4 years of life on a maple tree. Every 15 Capsule boards, save a maple tree!
Capsule Skateboards founder and CEO Andreas Charalambous in a recent statement mentioned: "For me, skateboarding is a combination of freedoms. Freedom to go anywhere, freedom to do anything, freedom of the spirit. Unfortunately, for those who are skateboard and longboard enthusiasts, materials used for the construction of the boards lead to their hobby being significantly expensive due to their low resistance to weather conditions and their high delamination risk. Our skateboards & longboards are the most innovative and disruptive products to hit the market. After five years of development, we have achieved the most unique combination of features that a board can offer to its owner, without using maple tree wood for production. These products offer a cost-effective, safe and environmentally friendly solution."
Become a member of the Capsule community and be the first to try our innovative skateboards and longboards. Pre-order today your board via Indiegogo at http://www.capsuleskateboards.com, and take advantage of huge discounts and secret perks. Capsule products are available at $75 for skateboards and $125 for longboards.
IndieGoGo Campaign Video:
https://www.youtube.com/watch?v=U7n1RX5xjKs
One minute Short Video:
https://www.youtube.com/watch?v=PQcmjwH9m30