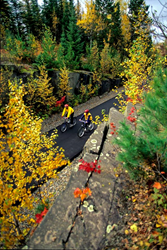 "This area also offers a vibrant arts & entertainment season, great dining opportunities and unique attractions that round out a Fall color tour unlike anywhere else." -Megan Christianson, executive director, Visit Grand Rapids
GRAND RAPIDS, Minn. (PRWEB) August 22, 2017
Travelers from the upper Midwest have more options than ever to take in Fall colors and celebrating the turn of season. Among the many options available, Visit Grand Rapids is highlighting four ideas to head north for a different Autumn experience in 2017.
Idea #1: Edge of the Wilderness Scenic Byway. Minnesota's oldest scenic byway, the Edge of the Wilderness drive takes motorists deep into heavily forested areas north of Grand Rapids. With brilliant colors from red sugar maples, bronze oaks, golden aspen and birch trees, the byway also allows for a relaxing cruise that winds around pristine lakes, forests and rolling hills. Travelers can also stop at interpretive sites and other opportunities to take in the change of season.
Idea #2: Deep woods offroad adventure. The Grand Rapids area has hundreds of miles of exceptional offroad trails for ATV enthusiasts. The Blandin Trail provides access to the beautiful forested areas just south of Grand Rapids. Exceptional, maintained trails are easily accessible and allow for leisurely rides as well as access to scenic overlooks and places to stop to relax or stop at one of many area restaurants. Maps for the Blandin Trail and many other ATV/OHV options are available at https://www.visitgrandrapids.com/things-to-do/atvohv/.
Idea #3: Hiking/biking among fall colors. With more than one million acres of public accessible forest land, visitors have exceptional opportunities to take in Fall colors in the Chippewa National Forest and the Mesabi Trail. The area boasts a many miles of hiking and biking trails, from easy paved roads for families with small children to more intense deep-in-the-woods trails for mountain biking and hiking. Trail maps and information are available at https://www.visitgrandrapids.com/things-to-do/hikingbiking/.
Idea #4: Leaf watching from the water. Itasca County boasts 1,007 lakes, each of which provide unique opportunities to take in Fall. From fishing expeditions on secluded lakes to recreational lakes to paddling the headwaters of the Mississippi River, water enthusiasts can find a wide range of options to view Fall colors on the water.
"We have some of the best fall color watching opportunities in the upper Midwest, and want people to experience the unparalleled beauty of the Grand Rapids area this fall," said Megan Christianson, executive director for Visit Grand Rapids. "This area also offers a vibrant arts & entertainment season, great dining opportunities and unique attractions that round out a Fall color tour unlike anywhere else."
Among the many attractions in the area, the Reif Performing Arts Center in Grand Rapids offers a wide range of entertainment options for visitors after they take in the Fall colors. The Reif Center recently announced its full 2017/1018 season, which includes exceptional performing arts experiences in its newly-renovated space.
Visitors can also enjoy the Forest History Center, Itasca County Historical Society, The Judy Garland Museum and many other attractions.
Peak season for Fall colors in Grand Rapids generally mid- to late-September, but visitors can also enjoy exceptional colors and scenery before and after peak weekends. More ideas and information about Grand Rapids area attractions can be found at http://www.visitgrandrapids.com.
About Visit Grand Rapids  
Visit Grand Rapids is the official destination marketing organization for the Grand Rapids, Minnesota, area. Visit Grand Rapids was founded in 1983 as a 501(c)(6) non-profit business association, with the objective to promote the Grand Rapids area as a destination for conferences, conventions, events, group tours and leisure travelers, thereby enhancing the economic growth of the area through travel and tourism. Visit Grand Rapids' mission is to generate a positive economic impact through travel and tourism. For more information, visit http://www.visitgrandrapids.com