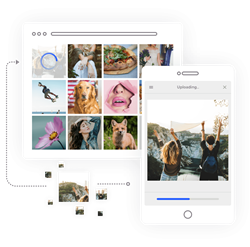 "We have thousands of users uploading files on our platform every day" Says Dorian Collier, Director of Product at JibJab "Upload failures can decrease conversion by creating a poor user experience. We're thrilled to see Filestack tackling this challenge"
San Antonio, Texas (PRWEB) August 23, 2017
Today Filestack, the file uploading API powering more than 100,000 applications worldwide announced the release of new technology to eliminate one of the biggest negative user experiences in image and video heavy mobile applications: file upload failures. Because of limited mobile bandwidth and rapidly changing connection points as users move around, upload failures are commonplace, especially for high resolution images and video files. These failed uploads are one of the most common sources of mobile application errors and a common source of frustration for users. These problems are eliminated with Filestack Intelligent Ingestion. This innovative technology designed especially for file uploads on mobile devices solves the file upload failure problem by smartly adjusting for network conditions. Because Filestack Intelligent Ingestion continually monitors network conditions, files are continually resized and retried until the file upload is complete. Filestack Intelligent Ingestion virtually guarantees upload success in tough network conditions where other systems fails. This new technology is built on top of the Filestack Content Ingestion Network - a global network of file ingestion points of presence (POPs), to ensure upload speed and reliability. Filestack Intelligent Ingestion can be easily integrated into any application with libraries and SDKs for web and native applications.
Filestack Intelligent Ingestion Ensures File Upload Success Even With Very Bad Network Conditions
Filestack Intelligent Ingestion comes at a time when mobile uploading is a constant headache for developers. According to CISCO's Visual Networking Index, mobile data traffic has grown 18-fold over the past 5 years, and still 33% of mobile users are using 3G connections. As users turn to mobile devices, they have more trouble uploading files because of unreliable networks, throttles, and over crowded routes. Without using a designated upload service, mobile failures is often as high as 15%. Low performance file uploads are detrimental for user experience, and result in greater abandonment and lower retention of customers. Many developers and services attempt to solve for file uploads with resumable uploads, where they simply retry parts of the upload that fail. Filestack's new technology adds an intelligent aspect to resumable uploads: FII not only retries the upload, but also monitors and dynamically adjusts for network conditions to virtually guarantee success. The Filestack technology dynamically monitors network connection to properly chunk files into the correct sized bits to optimize for both file upload success and speed.
"At first glance, developers do not always recognize the challenges associated with uploading files," says Wayne Walls, Filestack CTO. "It's only when they start to complicate their algorithms to improve upload performance with chunking, asynchronous uploads, automatic retries, adjusting for changing network latency, and updating for third party APIs, do they realize they've opened a Pandora's box, and would have been better off relying on a pre-built solution."
Filestack alleviates this headache entirely by providing a plug and play solution for fast, reliable file uploads. Filestack Intelligent Ingestion is built on top of the Filestack Content Ingestion Network (CIN). The Filestack CIN works as a reverse content delivery network (CDN), using a globally distributed network of Filestack Ingestion points of presence (POPs) to upload files in any region of the world up to 10x faster than traditional methods. Filestack recently added a POP in Australia and is currently building Mumbai into its network, with more POPs on the way. With both Filestack Intelligent Ingestion and the Filestack CIN, there has never been as simple solution to upload files reliably and speedily on mobile applications.
Updated Software Development Kits (SDKs) and Libraries for Seamless Integration
Filestack Intelligent Ingestion can be seamlessly implemented into any application via one of the many Filestack SDKs. In addition to the Filestack JavaScript library, Filestack offers official libraries for Swift, Java, Python, Ruby, PHP as well as plugins for Ruby on Rails, Confluence, Salesforce and Wordpress.
Built for Enterprises with High Volumes of Files
Although many Filestack features can be used to power uploads on apps of any size, Filestack's new technology is geared towards enterprise companies who regularly handle huge volumes of files. Filestack recently adjusted pricing to be more attractive to enterprise customers, with scaling usage fees and custom plans. Filestack even offers an unlimited plan that allows users to upload and transform an unlimited number of files.
"We recognize that one plan does not fit all needs," says Chairman of the Board, Lew Moorman. "Now we're encouraging customers to customize their plans based on what features they will need, whether that is a lot of uploads, or advanced features like the Filestack Content Ingestion Network or Intelligent Ingestion. No one should be penalized for handling more files."
Summary of New Releases
Filestack Intelligent Ingestion improves file upload success in even the worst network conditions.
Filestack Intelligent Ingestion is built off of the Filestack Content Ingestion Network (CIN) which increases file upload speed up to 10x.
New and updated SDKs for iOS, Android, Python, PHP, and Ruby for ease of implementation.
Enterprise focused pricing to ensure that Filestack meets the needs of companies with high volume files.
Learn more at https://www.filestack.com/products/mobile-upload
About Filestack
Filestack is a developer service for file management in the exploding realm of user-generated content. Filestack allows software developers to integrate with more than 25 of the world's leading social networks and cloud drives, with just a few lines of code. End users can upload content from websites and mobile apps like Facebook, Instagram, Dropbox, or wherever that content is stored. Filestack enables developers to upload and store large files, transform and manipulate images and other file types, and deliver content with blazing speed, responsively, across any type of desktop or mobile device. Filestack is headquartered in San Antonio, Texas and powers more than 100,000 applications around the world.
Media inquires
Wayne Walls
press(at)filestack(dot)com