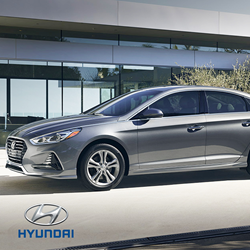 "We are very pleased to partner with Hyundai to ensure their vehicles are described accurately throughout the marketplace and remarketing chain,"
Portland, Oregon (PRWEB) August 23, 2017
Chrome Data, the leading provider of vehicle data, merchandising solutions and incentives today announced they entered into a commercial agreement with Hyundai Motor America to utilize Hyundai build data within Chrome's VIN Description Services.
Hyundai will provide their build data to Chrome to be utilized along with the Chrome Vehicle Catalogue data for the purposes of accurately describing Hyundai vehicles. Build data information provided by Hyundai will enable Chrome VIN description services to be 100 percent accurate for Hyundai vehicles.
Chrome Data, best known for collecting, standardizing, enhancing and syndicating automotive data, provides access to over 30 years of high quality VIN vehicle data, new car, light truck and motorcycle information. "We are very pleased to partner with Hyundai to ensure their vehicles are described accurately throughout the marketplace and remarketing chain," stated Craig Jennings, general manager of Chrome Data.
Build data offers specific information concerning interior and exterior colors, options, packages, technology and equipment that is not always possible to derive from a standard VIN decode. Accurate VIN descriptions are critical to dealers, marketers, remarketing companies, finance & insurance companies, valuation services and, of course, the retail shopper. According to Jennings, Chrome Data decoded more than 3 billion VINS in 2016.
"Working with Chrome Data to make our build data available to hundreds of automotive industry partners will ensure our vehicles are represented properly to maximize the value of every vehicle," added Dean Evans, Hyundai's chief marketing officer.
Hyundai sold 775,000 vehicles in the U.S. last year, and more than half were built in U.S. manufacturing facilities.
About Chrome Data:
Chrome Data is the industry-leading provider of vehicle merchandising solutions and automotive content. As a subsidiary of the Autodata Group, Chrome Data offers a one-stop-shop resource for vehicle data, incentives, images and videos to help the automotive sale chain market and sell vehicles more effectively and profitably. For more information about Chrome Data visit http://www.chromedata.com