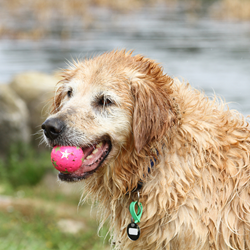 Rinsing your dog down with the garden hose isn't sufficient. Nip problems in the bud with a thorough grooming session.
Wilton, Conn. (PRWEB) August 24, 2017
After a long summer spent running through the woods, swimming at the beach and rolling in the grass, many family pets are suffering from skin, paw and ear irritation.
Tangled coats, skin redness and ear infections can lead to more serious problems if they aren't addressed promptly, according to Traci Simo, of at-home pet services provider Canine Company. "Regular grooming is important to pet health year round, but dogs need extra attention at this time of year to stay healthy and comfortable."
"Rinsing your dog down with the garden hose isn't sufficient," she says. "Nip problems in the bud with a thorough grooming session, paying close attention to the condition of the dog's coat, ears and paws."
She recommends following these steps
1. Start with a deep brushing, carefully working out any mats and tangles. A matted coat will cause skin problems, irritation and discomfort. A badly matted dog should be seen by a qualified groomer with the tools and training to address the problem humanely.
2. Check for parasites. While you are brushing and combing, inspect the dog's skin for signs of fleas, ticks and other parasites. Don't stop parasite prevention treatments yet; those pests will be looking for a ride indoors before the cold weather arrives.
3. Shampoo thoroughly to remove dust, dirt, mold spores and parasites. Use a shampoo specifically formulated for dogs' skin, which has a different pH from human skin. Follow with a conditioner; then rinse and towel dry. Simo recommends brushing and combing the coat to air dry rather than using a home hair dryer, which can burn the dog's skin.
4. Do an ear check for problems that may be triggered by summer swims. If the ears have an odor or show signs of redness, or if the pet is scratching at them, proper cleaning by a professional groomer or veterinarian is in order.
5. Do a foot check by spreading the pads and looking between the toes. Redness and irritation may indicate contact dermatitis or allergies from lawn chemicals, hot asphalt or grass seed – requiring cleaning and treatment. Nails and excess hair between the pads should be trimmed to prevent problems for developing.
"Undoing summer's damage is a big – but important – job. Many people prefer to turn it over to the professionals," notes Simo. "If you do seek professional help, be sure to let the groomer know about your pet's activities over the past few months, so she can address any issues."
About Canine Company
Born of a family's love for dogs, Canine Company provides at-home services to keep pets healthy, safe and happy including the Invisible Fence® brand systems, Manners dog obedience training, and mobile grooming and pet sitting in select markets. The company is based in Wilton, Connecticut. For information, visit http://www.caninecompany.com or call 800-818-3647.