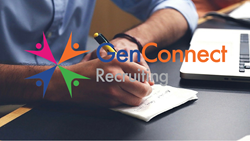 ATLANTA, GA (PRWEB) August 22, 2017
GenConnect Recruiting, an innovative start-up recruiting firm that supports businesses looking for top-tier candidates, announces a new recruiting dashboard simplifying the process so the employer can quickly make a decision. This enhancement to their six-step method makes working with GenConnect even easier for both employers and candidates.
GenConnect's recruiting process begins with the unique approach of organic sourcing. Instead of reaching out to applicants, the recruiting team at GenConnect posts an employer's role on over 100 job boards, including college recruiting sites, and social media channels to attract the right candidates.
The second step of its unique process starts with their always-online application portal. Each resume uploaded for a position is reviewed by a GenConnect staff member, rather than falling into a digital list of resumes scanned for keywords by a computer algorithm. The qualified candidates are then invited to participate in a video and phone interview to further validate their skills, personality and aptitude for the position.
Employers are then provided login information to view all applicants chosen for the next step in the recruiting process and this is where the process just got easier. GenConnect staff will forward you recommended candidates via email with an easy link that takes you into our system. The new dashboard provides all the information you need to review in detail each candidate including resume, videos and notes taken by the staff.
Once the employer extends an offer to an applicant, the final step of GenConnect's recruiting process begins. All GenConnect recruits receive one full year of coaching as a part of its services to the hiring employer. The first step in the coaching process starts on day one of the recruit's new position with a career plan and thinking assessment to help the new employee map out their career with the new company.
GenConnect Recruiting fundamentally believes that there is a significant opportunity to engage employees and employers in a long-term relationship built on trust, understanding and loyalty. By using an inimitable recruiting process GenConnect helps companies find quality employees they can develop into future leaders.
About GenConnect Recruiting
GenConnect Recruiting is a firm that specializes in the recruitment and hiring of talented candidates for small- to medium-sized businesses in a variety of industries. The innovative firm offers a full range of services to support both the employer and job seeker before, during and after the hiring process. From career employee benefits and HR policies to career coaching and financial planning, GenConnect Recruiting is a unique resource in today's competitive market. To learn more, visit genconnectrecuiting.com.