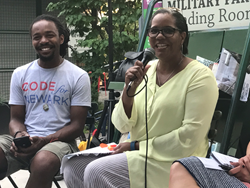 Newark, NJ (PRWEB) August 22, 2017
Yesterday the Military Park Partnership, Code for Newark and the City of Newark Office of Technology Information hosted 2016 Top 25 Leading Woman Entrepreneur and 2017 Top Woman in Public Relations, Cheryl McCants as a featured panelist for the first edition of its Tech Talks series in downtown Newark, New Jersey. Launched last year to engage Newark residents, professionals, and students in discussions on technology, Tech Talks in Military Park offers device demos, giveaways, and meet-ups with representatives from large tech companies and small startups in and around the greater Newark, NJ area.
McCants joined Stephanie Macias-Arlington, of the New Jersey Institute of Technology Enterprise Development Center on the Women in Tech panel to discuss their experiences in tech, business and the overall state of women in technology. McCants began her undergraduate education in biomedical engineering and continued her post-graduate studies and career in business and marketing communication. In 1989 she founded Impact Consulting Enterprises, a strategic communication and marketing firm that has served clients across a myriad of industries, including telecommunications, bio-pharmaceuticals, development and more.
"At Impact, we spend all of our energies making sure that the stories about what is happening with women in tech are shared and are known. Our work in general is aimed at Latinos, Asians, African Americans, and millennials, but women are our primary target," McCants shared during the event. "The goal is to make sure that there are opportunities and conversations being had so that the public gets the information they need to make educated and intelligent decisions regarding women and girls, both as consumers and as leaders."
This quarter, Impact has made several exciting steps toward increasing its capacity to tell these and other stories. This month, Interise and the New York & New Jersey Minority Supplier Development Council (NYNJ-MSDC) honored McCants at a dinner ceremony for her completion of its Accelerate2020 Newark Small Business Accelerator program. Based on the Interise StreetWise 'MBA'™ curriculum, the program trains small business leaders in business strategy, financial analysis, access to capital, marketing, sales strategy, talent, contracts, growth planning, and more. McCants was awarded a certificate in Small Business Entrepreneurship backed by the Boston University Entrepreneurial Management Institute.
Joseph Salamone, Impact's summer 2017 intern, also increased his capacity and knowledge for entrepreneurship and communications. During his internship, Joe assisted with client events, Impact content and branding, and the upcoming redesign of Impact's website. He made meaningful contributions to the Impact team and will graduate from The College of New Jersey this December with an interdisciplinary business degree.
Also this summer, the Greater Newark Convention and Visitor's Bureau enlisted Impact to create a series of ads welcoming visitors from the United Kingdom and India to shop, play and stay in Newark, New Jersey. Impact has built an impressive track record for telling stories that showcase the positive things Newark has to offer, and the firm is pleased to continue spreading the message through this opportunity.
In July, Impact co-sponsored Newark Regional Business Partnership's signature summer networking event, Let's Do Lunch, where approximately 100 business leaders, entrepreneurs, and trade organization representatives mingled over lunch at Nico Kitchen + Bar in downtown Newark. The firm donated a 90-minute professional consultation with McCants as a raffle prize, which was awarded to Mark Hahn, managing director of printing and packaging company, Graphic Arts Advisors. Hahn will receive a strategic marketing analysis and business development insight to set him on the path toward expanding Graphic Arts Advisors.
Impact Consulting Enterprises is a New Jersey-based, strategic business development firm with international reach that provides strategic communication, marketing and public relations support to enterprises of all sizes, both public and private. Past clients include the U.S. Department of Transportation, Newark Community Economic Development Corporation, Suven and many more.
Authorized photos and video from the "Women in Tech" Newark Tech Talks event can be accessed here: https://www.dropbox.com/sh/i2uc1zz80i2notf/AAAEzfVjqCynKi4VXv0S1xFca?dl=0
###
Impact Consulting Enterprises is a minority woman-owned strategic communications, marketing and public relations firm founded in 1989 by business strategist and communication professional, Cheryl McCants. Impact adds the "pop of color" that helps businesses grow. We are brand storytellers. Individuals, corporations, small businesses, non-profit organizations and public agencies partner with Impact to tell their untold stories to women, millennials, African Americans, Latinos and Asians. Clients choose us so that their customers and stakeholders feel good about where they are and better about where they are going.