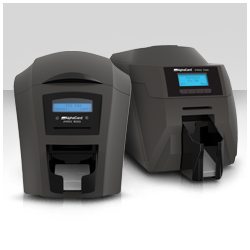 PRO printers come with built-in AlphaGuard technology, a hologram-like watermark applied over the finished cards.
PORTLAND, OR (PRWEB) August 24, 2017
AlphaCard, a leading manufacturer and distributer of badge printers and photo ID systems, recently launched an exclusive line of professional ID card printers. Available with a wide variety of options, the PRO series ID card printers feature cutting-edge print technology, advanced visual card security, and industry leading support and warranty protection.
The PRO series includes three classes of ID card printers. AlphaCard's entry level printer, the PRO 100, is a hand-fed single-sided printer. The PRO 500, ideal for mid volume card printing, has options for single and dual-sided printing. The PRO 700, AlphaCard's most advanced printer, is available with single or dual-sided printing, and a 100 card input hopper for batch printing. Each printer has an optional upgrade for magnetic stripe encoding.
PRO printers come with built-in AlphaGuard technology, a hologram-like watermark applied over the finished cards. This extra layer of visual security, which makes it easier to identify authentic cards, uses standard ribbons and cards and adds no extra cost to the printers. There are four pre-set designs. The PRO 700 comes with a free Custom AlphaGuard ($598 value) so organizations can design a unique watermark for advanced card security.
Manufactured to the highest quality standards, AlphaCard PRO series printers are backed by industry-leading warranties - three years for an entry-level printer and four years for mid and high volume printers. Each PRO printer also comes with the new Pro-Xchange program that takes the hassle out of printer repairs. Instead of making customers wait for repairs or a loaner printer to be shipped, the Pro-Xchange program offers an immediate permanent replacement printer. Pro-Xchange, active for the life of the printer warranty, minimizes system downtime and operational risk.
PRO series printers also come with AlphaCard's premier AlphaCare support and a free year of AlphaCarePlus VIP support (a $298 value). Customers with AlphaCarePlus get service and support that goes above and beyond, including free setup and training, 30 day upgrade program, lifetime phone support, a VIP priority phone and email queue, free software updates, annual printer check-up, and more.
View the new AlphaCard PRO printers online at http://www.alphacard.com/id-card-printers/alphacard-printers.
About AlphaCard
AlphaCard (http://www.alphacard.com) is a long-trusted provider of complete ID card solutions for applications ranging from employee, government, and school ID programs, to loyalty and membership clubs, access control systems, and more. AlphaCard has served over 30,000 customers in over 100 countries since 1998.