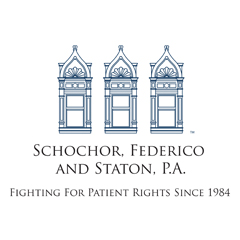 Baltimore, MD (PRWEB) August 24, 2017
The law firm of Schochor, Federico and Staton, P.A. is honored to announce that five of its partners have been selected as Best Lawyers® for 2018 for the legal service that they provide to their medical malpractice and mass tort litigation clients. Two of the firm's partners are receiving this recognition for the fifth time, while three of them have each been selected as Best Lawyers® a total of 10 times.
The following five partners have received the 2018 Best Lawyers® designation for their exceptional representation of plaintiffs in the field of medical malpractice: Jonathan Schochor, Kerry D. Staton, Philip C. Federico, James D. Cardea, and Scott P. Kurlander.
How Best Lawyers are Chosen
In order to receive the Best Lawyer® designation, candidates go through a peer review process that gathers opinions and assessments from leading lawyers in a variety of practice areas:
1. Nominations accepted. Anyone can make a Best Lawyer® nomination but attorneys cannot nominate themselves.
2. Peer review. During this step of the process, the peers of nominated lawyers provide their personal assessments.
3. Analysis. All feedback and data is reviewed and analyzed to narrow the list of nominations.
4. Eligibility review. The state licensing boards of all remaining candidates are contacted to ensure that each attorney is in good standing.
5. Results released. Selected attorneys are notified and results are shared with the public.
About Schochor, Federico and Staton, P.A.
For more than 30 years, the attorneys of Schochor, Federico and Staton, P.A. have provided quality legal representation throughout Baltimore, Maryland, Washington DC and other states. The firm has led some of the country's largest single-perpetrator, sexual abuse class-action settlements, while consistently demonstrating a personalized commitment to each and every client.
For more information about Schochor, Federico and Staton, P.A. or these Best Lawyer® selections, call their office at 410-234-1000 or visit their website at https://www.sfspa.com.