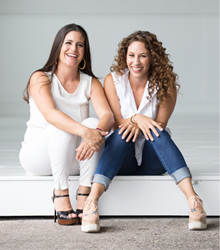 "As entrepreneurs we constantly struggle with shattering the glass ceiling and Peach has been a great stepping stone in the endeavor…the results far exceeded our expectations." Michelle Possin
Boston, MA (PRWEB) August 29, 2017
Direct sales fashion startup Peach Inc., of Waltham, MA announces an exciting program to promote small and emerging, female-founded fashion accessories companies.
There is an enormous hurdle confronting female entrepreneurs. Unfortunately, women get considerably less venture capital funding to grow or startup businesses than men. According to a 2014 study by Babson College, "85 percent of all venture capital–funded businesses have no women on the executive team. Importantly, only 2.7 percent of venture capital funded companies had a woman CEO." This puts them at a significant disadvantage.
Peach, a woman-led, apparel startup that understands the challenges first-hand, designed a program to help women fashion entrepreneurs narrow the opportunity gap.
Each season, Peach looks for stylish, emerging fashion and fitness accessories brands to sell with their contemporary women's athleisure apparel. In 2017, Peach tested a program to buy, sell and promote these up and coming fashion accessory companies through their national network of personal stylists, on their website and social media.
The direct sales model allows stylists to tell the entrepreneurs' stories and sell the accessories directly to their clients, creating a more engaging experience than the more passive retail brick and mortar or e-commerce. Customers enjoy the personal buying experience of direct sales and love discovering hot fashion and fitness accessory brands that aren't yet household names. The entrepreneurs get exposed directly to a large, new audience.
Peach is now opening up the process for founders of small or growing startup fashion or fitness accessory companies to apply directly to be a featured entrepreneur. They can make their case for this tremendous free exposure and significant wholesale orders… just what these brands need to grow.
The program is intended to give these female-founded companies a powerful platform for growth. "A big part of the Peach corporate mission," says Peach CEO Janet Kraus, "is to support women's entrepreneurship. Women get drastically less startup venture capital than men. Our featured entrepreneur program is a unique way for us to walk the talk on our mission. The program has been a smash success, many of the items have become our bestsellers. Now we are excited to allow these founders the ability to easily apply directly for this huge opportunity."
Since January 2017, Peach has featured accessories from several exciting brands to sell with their active-inspired apparel. Past entrepreneurs include Michelle Possin and Colette Feldman of By Lilla. Their unique product is stackable, bracelets that double as hair ties. Michelle said this about the program, "As entrepreneurs we constantly struggle with shattering the glass ceiling and Peach has been a great stepping stone in the endeavor…the results far exceeded our expectations."
Apply here to be a featured entrepreneur.
Sarah Kraus - Media Relations sarahkraus(at)discoverpeach.com
Peach website