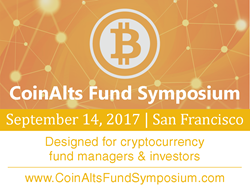 SAN FRANCISCO, California (PRWEB) August 24, 2017
Registration is now open for the inaugural CoinAlts Fund Symposium on September 14, 2017 at the St. Regis Hotel in San Francisco's Financial District. The all-day event will feature panel discussions on topics relevant to the burgeoning cryptocurrency asset class. In addition to programs devoted to legal, regulatory and operational issues, the conference will include leading asset managers in the space, sharing their perspectives on current and anticipated trends in the industry.
The symposium is designed to address key issues relevant to asset managers in the cryptocurrency marketplace, which has seen tremendous growth over the past twelve months. "One of the main goals of this symposium is to help forge the supporting framework within which this new asset class will function. Because of the noteworthy growth of cryptocurrencies as an asset class, we believe it is important for all stake holders to begin to discuss best practices and standards going forward," said conference co-chair Bart Mallon of the law firm Cole-Frieman & Mallon LLP.
"We are excited and encouraged about the wonderful lineup we have – representatives from well-known crypto fund complexes, major industry service advisors, as well as the cryptocurrency and exchanges ecosystem will be present. We are especially excited about our keynote speaker Olaf Carlson-Wee of Polychain Capital," said conference co-chair Matt Stover of the administration firm MG Stover. Recently featured on the cover of Forbes magazine as the "Crypto-Coin Magician," Olaf Carlson-Wee is the Founder and Managing Member of Polychain Capital, one of the world's premier blockchain asset investment firms. He is one of several established cryptocurrency industry experts who will be sharing their experiences and insight during the Symposium.
In addition to the keynote speech, panel topics will include the following:

Legal Overview and Issues with Launching a Cryptocurrency Fund
Regulatory Outlook for Digital Assets and Investment Managers
Operational Challenges & Best Practices for Digital Asset Managers
Tax Considerations and Planning
Investing in Cryptocurrency Funds – Due Diligence and Other Insights
Cryptocurrency Trends & Innovations
Current early bird pricing for investment managers is $250 per person. This ends on August 31, 2017, after which the price will be $350 per person. Ticket prices for industry service providers are $450 per person.
About the CoinAlts Fund Symposium
The CoinAlts Fund Symposium was established by four firms with significant practices devoted to fund managers in the cryptocurrency space. Arthur Bell specializes in the alternative investment industry and advises cryptocurrency funds on important tax, audit and operational matters. Harneys Westwood & Reigels LLP is a leading international offshore law firm that advises fund managers on all aspects of the life of a Cayman or BVI fund including formation, restructuring and closure. MG Stover & Co. is a full-service fund administration firm built by former auditors and fund operators to deliver world class solutions to the global alternative investment industry. Cole-Frieman & Mallon LLP is a premier boutique investment management law firm, providing top-tier, responsive and cost-effective legal solutions for cryptocurrency fund managers.