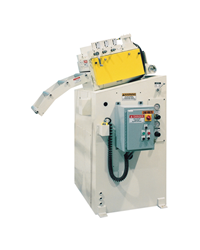 Since the introduction of its first HD Heavy Duty straighteners in 2014, COE has continued to advance the capability of its coil straighteners to meet the challenges of processing advanced high tensile, high strength materials.
Sterling Heights, Michigan (PRWEB) August 31, 2017
COE Launches Enhanced Series 250 Power Straightener for Processing High Yield Materials
COE Press Equipment has launched its upgraded Series 250 power straightener, further illustrating its continuing leadership in straightener technology for achieving the necessary flatness required for processing a variety of metal materials in today's pressroom. Featuring design enhancements proven to enable processing of a wider range of materials including Advanced High Strength Steels (AHSS), the new straighteners offer a 30+ percent improvement in strength and rigidity due to increased roll journal diameter and radius, as well as increased bearing load capacity.
COE has expanded the size availability of the new 250 straighteners, which can now handle coil widths from 1.0-in. to 54-in., thickness from .010-in. to .187-in., and coil weights up to 20,000 lbs. The broad range of material capability includes CR Steel, HR Steel, Galvanized, Stainless, Pre-painted, Aluminum and AHSS. These straighteners are intended for pairing with COE's SERVOMaster™ Series 1 and Series 2 roll feeds.
The straighteners provide AC variable speed drive with digital control and worm gear adjustment of the upper straightener rolls. Additional modifications to the design include enhanced outboard support, new idler shafts, improved backup design and other updates.
For more information on COE's line of straighteners, visit http://www.cpec.com/straighteners.html.
COE Press Equipment designs and manufactures a complete line of premiere coil handling and servo roll feed equipment from stand-alone roll feeds, straighteners, reels, cradles and air feeds to complete integrated feed line systems and cut-to-length lines. The company supplies and services a wide variety of global markets and industries including automotive, appliance, lighting, metal processing, housewares, lawn and garden, contract stampers, tool and die builders, and many others. To learn more, visit http://www.coepress.com