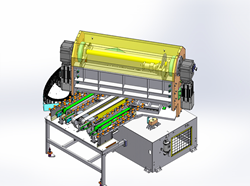 Eliminating the hoses, the fluids, the air, the clutch and all the energy associated with hydraulic systems provides an efficient and cost-effective shear solution for our customers.
Sterling Heights, Michigan (PRWEB) August 24, 2017
COE Press Equipment has announced the availability of its new Oscillating Servo Shear to enhance its comprehensive line of press feed line offerings. This new servo-powered product, as compared to hydraulic shears, is designed to significantly reduce maintenance time and costs as well as providing energy savings and noise reduction. Additionally, the smooth operation of the servo shear provides the ability to cut both rectangular and trapezoidal blanks with reliable, repeatable precision.
"Our goal is to continually enhance our customer's ability to process materials in the most efficient and cost-effective manner," said Steve Donnay, director of sales and marketing. "By eliminating the hoses, the fluids, the air, the clutch and all the energy associated with hydraulic systems, this product offers our customers many advantages."
Totally self-contained, the new servo shear relies upon a slew ring to support the weight of the shear. This design allows the shear to swivel in back and forth with the help of a second servo axis, attaining different angles for the cut. The COE Servo Shear can handle coil materials from 24-in. to 78-in. wide and up to 0.25-in. thick. When run in continuous mode, the system is capable of reaching speeds of up to 240 SPM, depending upon the width of the material being run.
Maintenance Reduction: With hydraulic systems, which are constantly under high pressure and high flow rates, components tend to deteriorate; hoses chafe, fittings come, fluids and filters have to be changed regularly. A servo system eliminates all the piping, hoses, filters and much of the lubricant for ease of maintenance.
Energy Savings: Gravity has little effect on a a servo motor in a resting state, requiring very little energy to hold it in a balanced position between cycles. With hydraulic systems, the power unit is running at the same rate all the time regardless of whether the shear is cycling or not and energy is constantly dissipated through heat loss. Additionally, the clutch and brake also require energy and compressed air, where large amounts can be expended into the atmosphere
Noise Reduction: The shear moves in a very smooth, controlled sinusoidal motion which is very quiet in contrast to the top and bottom slamming of a conventional shear.
See a video of COE's new Oscillating Servo Shear in action here or call 586-979-4400.
COE Press Equipment designs and manufactures a complete line of premiere coil handling and servo roll feed equipment from stand-alone roll feeds, straighteners, reels, cradles and air feeds to complete integrated feed systems and cut-to-length lines. The company supplies and services a wide variety of global markets and industries including automotive, appliance, lighting, metal processing, housewares, lawn and garden, contract stampers, tool and die builders, and many others. To learn more, visit http://www.coepress.com