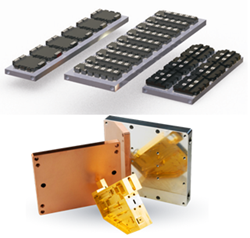 Atlanta, Georgia (PRWEB) August 25, 2017
Removing waste heat from power conversion systems remains a persistent industry wide problem. High powered systems used in electric vehicle, solar, ocean, wind, and industrial control applications require advanced liquid cooling technologies that have low thermal resistance, minimal pressure drop and exceptional reliability. Power inverters from 60KW and up used widely in these markets all share the same core problem: removing excessive heat from sensitive semiconductor switching modules. Solutions suitable for these systems require not only exceptional technology, but the capacity to produce quality product in production quantities.
MaxQ Technology (Tempe, AZ), the leader in Friction Stir Welded coldplates and cooling products, has been formally acquired by Tie Down (Atlanta, GA) to greatly improve production capacity and facilitate further technological developments. Securing key patents and demonstrating strong innovation acumen, MaxQ Technology provides coldplates and cooling solutions for the International Space Station, military defense research, autonomous and next generation electric vehicle manufacturers, and tier one suppliers in military, solar, wind, ocean, fossil fuel and industrial applications. Emphasizing the close coupling between design, analysis and manufacturing, MaxQ Technology has developed reliable coldplates and cooling solutions for a wide variety of power conversion systems rated up to 2 megawatts in capacity. Standard coldplates and custom cooling solutions support all leading Insulated Gate Bi-polar Transistor (IGBT) power modules from manufacturers such as Infineon, Powerex, ABB, Fuji Electric, Semikron and others.
Tie Down is a proven leader in the metal working industry with extensive CNC machining, laser cutting, welding, sheet metal and assembly capabilities. With over 750,000 square feet of ISO9001 certified production floor space, 5,500 finished products, 90 patents and almost 50 years of success in manufacturing, Tie Down has created a finely tuned operation. Tie Down will assume all production manufacturing responsibilities for MaxQ Technology while providing strong technical support to continuously improve the fabrication processes, a critical necessity in this highly-customized market.
"We could not be more excited about MaxQ joining the team. As part of Tie Down's commitment to Manufacturing Ingenuity, the new acquisition of MaxQ Technology will expand our ability to provide cutting-edge products and solutions to some of the world's most innovative companies," says Chase MacKarvich, CFO of Tie Down, and goes on to say, "From a growth perspective, the partnership is in line with our strategy of complementing our organic growth by completing selected strategic acquisitions."
Memo Romero, President and CEO at MaxQ Technology states that, "Tie Down's manufacturing discipline and forward thinking philosophy will provide an exceptional basis to support any customer needing state of the art cooling products in any production quantity."
"MaxQ espouses the same core values of Tie Down: Proactive, Collaborative, Driven, Reliable, and Accountable," says Sloan MacKarvich, CBDO of Tie Down. "The forging of our two companies affords us an unparalleled competitive and strategic advantage in the dynamic and growing power conversion market."
About MaxQ Technology
MaxQ Technology is the industry leader in Friction Stir Welded coldplates and cooling solutions, providing high performance thermal solutions for all power conversion markets. By combining sound engineering principles with innovative design, MaxQ Technology has developed unmatched thermal performance and quality with their proprietary Q-ChillTM cold plate technology. MaxQ Technology stands poised to deliver thermal solutions and address interdependent thermo-mechanical issues in power electronic systems.
MaxQ Technology's Q-ChillTM line of standard cold plates can be sourced through C&H Technology (http://www.chtechnology.com). For more pricing information, availability and custom coldplate solutions, please visit our website at http://www.maxqtechnology.com.
About Tie Down
Tie Down is a world-class metal fabrication company, privately owned and conveniently located in Atlanta, Georgia. Thanks to an engineering-first philosophy and continuous investments in technology, there's essentially no fabrication project too large or complex.
Our unique growth in both engineering and manufacturing innovation has not gone unnoticed, and these capabilities have been highly sought after by the most discerning of end users. For both very high volume and lower volume manufacturing, we have achieved the highest of supplier quality and performance standards with several industrial firms.
Interested in what Tie Down has to offer you or would like to learn more about Tie Down? Please come check out our new website: http://www.tiedown.com and follow us on our Social Media Pages!
We look forward to Manufacturing Ingenuity together.