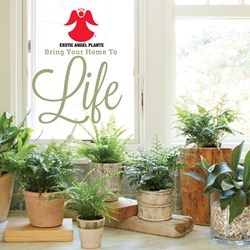 Our free 'Bring Your Home to Life' lookbook is an easy read that will leave gardeners feeling inspired to decorate their homes and offices with cheerful plants and variegated foliage
Miami, Fl (PRWEB) August 23, 2017
The 6 million new Americans who took up gardening in 2016, according to the 2016 National Gardening Report, may need some help when it comes to trying to find the perfect houseplant. To make the choice easier, Exotic Angel® Plants from Costa Farms has launched their new lookbook, "Bring Your Home to Life." The curated collection of more than 300 unique plant varieties ensures the perfect one to grow in homes and offices.
The report also found that 37 percent of millennials grow herbs and plants indoors, as compared to only 28 percent of boomers. As this group of consumers becomes more health conscious, they're looking for home accents that are more than just a pretty face. They want houseplants that purify the air and boost mental health.
Costa Farms' latest lookbook provides endless ideas for inspiration and plenty of advice for millennial gardeners and covers all the basics — from water-wise instructions to tips on beautifying bedrooms and bathrooms, this book has it covered.
The photo-packed book includes dozens of designs for beautiful ways to display houseplants and how to work with trendy textures and natural greenery.
"Our free 'Bring Your Home to Life' lookbook is an easy read that will leave gardeners feeling inspired to decorate their homes and offices with cheerful plants and variegated foliage," says Justin Hancock, garden expert at Costa Farms. "With 5 million of those new gardeners being between the ages of 18 and 34, you can bet they'll enjoy browsing these pages and finding the keys to success."
Exotic Angel delivers stunning content with dozens of ideas for adding charming plants to every room in the house. Millennials will enjoy learning about Fanciful Fittonias, the trendy nerve plants that add big color and are easy to grow.
"We want gardeners of every level — including non-gardeners — to find the inspiration they need as quickly and easily as possible," adds Hancock.
Top Four Plants to Beautify Bedrooms
1. Philodendron
One of the toughest plants, philodendrons tolerate low light and inconsistent watering. Plus, these plants purify the air.
2. Rex Begonia
One of the most interesting Exotic Angel plants, Rex Begonia has colorful leaves. It likes humidity and medium light conditions.
3. Janet Craig Dracaena
Dracaenas come in different leaf sizes, shapes and colors. The variety Janet Craig is the perfect stylish addition to bedrooms.
4. Golden Pothos
This tried-and-true favorite has been grown for years by gardeners. The trailing vines and unique variegation of pothos are a lovely accent.
"Once you have the knowledge, it's easy to continue growing Exotic Angel Plants," says Hancock. "Indoor gardening is an easy way to bring nature inside and update your interior."
To view the informative and colorful look book, visit CostaFarms.com.
About Costa Farms
Costa Farms is the largest producer of ornamental plants in the world. Founded in 1961 by Jose Costa, Costa Farms is a third-generation, family-owned business that globally stretches over 3,500 acres and employs 4,000 people. Along with thriving indoor and bedding plant divisions, Costa Farms operates merchandising and young-plant production divisions as part of its infrastructure, with operations domestically in South Florida and North and South Carolina, and abroad in the Dominican Republic and Far East.