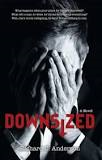 I've seen what happens to people when they face uncertainty and fear of failure.
Missoula, Mont. (PRWEB) August 28, 2017
What is a man capable of, when he has nothing left to lose? One author explores the possibilities when a man who has it all, begins to watch his world collapse around him.
In "Downsized," by Richard C. Anderson, an Iraq veteran with PTSD has adjusted well to civilian life. With a wife, two young children and a new house, he seems to be living the "American Dream." But, when an expected promotion falls through, he enters into a state of fear and anger, and is on the verge of losing everything. What ensues is an adventure through the unknown and schemes to attempt to recover his old life, with colorful characters and risky deals.
"I enjoy adventure," Anderson said. "And I've seen what happens to people when they face uncertainty and fear of failure. This book is based on some of those incredible actions I've witnessed."
Anderson is also a veteran and knows, first-hand, the debilitating effects traumatic events can have on one's life.
"Living with PTSD is, by no means, a smooth journey," Anderson said. "Through this book, I hope to reach others who have suffered traumatic experiences, as well as those who enjoy adventure and thrillers."
For more, visit: http://www.iuniverse.com/bookstore/bookdetail.aspx?bookid=SKU-001052153.
"Downsized"
By Richard C. Anderson
ISBN: 978-1-5320-1505-2
Available at iUniverse, Barnes and Noble and Amazon
About the author
Richard C. Anderson, a United States Army Veteran, has three college degrees, including an MS in accounting. Over the years, he has worked as a CPA, college instructor, fly-fishing outfitter, high school teacher, and writer. He has published numerous magazine articles and contributed to several books. He currently resides in the mountains of Western Montana with his wife, Kathy, and their two dogs. He enjoys fishing, rafting and travel.
###
Review Copies & Interview Requests:
LAVIDGE – Indianapolis
Lindsey Gobel
317.435.2116
lgobel(at)lavidge(dot)com