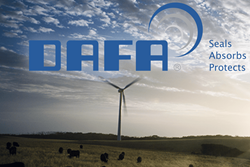 Jupiter, FL (PRWEB) August 24, 2017
DMG Productions, producers of the award winning series, Innovations with Ed Begley, Jr., will feature DAFA US Inc. (DAFA) in an upcoming episode, slated to air fourth quarter 2017. Check your local listings for more info.
Working towards a number of defined environmental targets to ensure environmentally friendly manufacturing practices, DAFA serves as a trusted business partner offering foam, rubber, and plastic solutions to the wind power industry, which improve turbine functioning, both onshore and offshore.
DAFA offers a large variety of products and solutions to the industry, which help structures and electronic components, withstand significant stress, perform better, and last longer. The series will explore how DAFA accomplishes this, and will educate on the significant benefits of using its rubber and foam products for the design, transportation, and performance of wind turbines.
"DAFA helps contribute to the development of the wind sector through its extensive insight into –and experience with – wind turbines," said Rochelle Hyman, Producer for the Innovations series.
About DAFA:
DAFA specializes in a wide range of products for sealing building envelopes including sealing strips, gaskets, rubber strips, foam packaging, and aluminum casement profiles, and offers a wide range of jointing products. DAFA's design and development department has a day-to-day focus on the development of innovative solutions in close collaboration with its partners. For more information, visit: http://www.dafa-as.com.
About Innovations and DMG Productions:
Innovations, hosted by award winning actor Ed Begley, Jr., is an information-based series geared toward educating the public on the latest breakthroughs in all areas of society. Featuring practical solutions and important issues facing consumers and professionals alike, Innovations focuses on cutting-edge advancements in everything from health and wellness to global business, renewable energy, and more.
DMG Productions (responsible for creating the Innovations show) includes personnel specialized in various fields from agriculture to medicine, independent films to regional news and more. Field producers work closely with experts in the field to develop stories. This powerful force enables DMG to consistently produce commercial-free, educational programming that both viewers and networks depend on.
For more information visit: http://www.InnovationsTelevision.com or contact Rochelle Hyman at (866) 496-4065 or via email at info(at)InnovationsTelevision(dot)com.