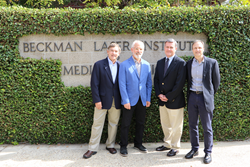 Wausau, WI (PRWEB) August 24, 2017
The latest techniques and treatments in laser aesthetic medicine will be presented the Laser Aesthetics Course October 28-29, 2017 at the Beckman Laser Institute in Irvine, California.
This popular weekend course, hosted by the American Society for Laser Medicine & Surgery, Inc. (ASLMS), is designed for physicians, clinicians, scientists, and industry professionals who use or are investigating the use of lasers and other energy-based technologies. The course provides a comprehensive overview of how lasers are used in aesthetic applications to achieve optimum clinical outcomes. Topics include: basic science of lasers, tissue interactions, safety procedures, skin tightening, hair removal, fat treatment, vascular lesions, tattoos, scars, photodamage, and injectable neurotoxins.
The distinguished course faculty, led by J. Stuart Nelson, MD, PhD, course director, includes Emil A. Tanghetti, MD; E. Victor Ross, MD; and Gerald N. Goldberg, MD. The course is located at the prestigious Beckman Laser Institute and has limited registration.
"This meeting excels because it is a very comprehensive overview of laser physics and applications, presented over 2 days in a relatively small group setting which facilitates interaction between experienced laser practitioners and participants," said Dr. Goldberg. "I appreciate the small, intimate group setting where there is ample time for questions and answers as well as informal discussions with the presenters."
For 2017, the course will include the latest in innovative combinations of ablative lasers to achieve optimal results for skin rejuvenation, acne scarring and complex vascular malformations, plus several newer devices and techniques that combine ablative and non-ablative technologies. The newest picosecond devices will be compared for optimal treatment of pigmented lesions.
"This year the aesthetic course has been updated to include more 'how to' videos, more 'how to avoid complications,' and even more practical solutions to common problems", said Dr. Ross.
Course registration is $950 for ASLMS members or applicants, $1,250 for non-members, and $200 for students, residents and fellows-in-training (five student/resident/fellow seats are available). To register, or for more information, visit http://www.aslms.org/, call (877) 258-6028 or email information(at)aslms(dot)org
The American Society for Laser Medicine and Surgery, Inc. (ASLMS) is the largest multi-disciplinary professional organization dedicated to the development and application of lasers and related technology for health care applications. ASLMS promotes excellence in patient care by advancing biomedical application of lasers and other related technologies worldwide. Currently, ASLMS has over 4,000 members, including physicians and surgeons representing more than 51 specialties, physicists involved in product development, biomedical engineers, biologists, nurses, industry representatives and manufacturers. For more information, visit http://www.aslms.org/