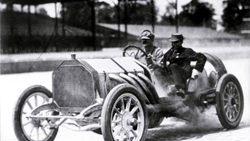 Auto mobility and the American Dream are tightly woven together and are an important part of our nation's fabric: past, present, and future.
Naperville, IL (PRWEB) August 24, 2017
Tom Burgess, developer and owner of Iron Gate Motor Condos in Naperville, IL, is passionate about cars, and as the founder of Iron Gate Motor Condos and proud sponsor of this weekend's Geneva Concours d' Elegance, was reminded of his family's history with classic cars.
The Concours will feature, among other classics, Buicks that were designed during the time Walter Marr was Buick's Chief Engineer including three one off prototypes. Burgess recalled his family's love for classic vehicles and his great grandfather's relationship with an early automobile pioneer.
Starting in 1889, Burgess' great grandfather, Frank A. Burgess, was the general manager of Fauber Manufacturing Company in Elgin, IL. Fauber was contracted to produce the Marr automobile, designed by Walter L. Marr and assembled by Fauber Manufacturing.
The Marr was a two-seat runabout with a single-cylinder 1.7L engine that was mounted under the seat, but what made this vehicle unique were its changeable speed gears on a planetary transmission, a revolutionary carburetor, and the first tilt steering wheel. When Fauber Manufacturing burnt to the ground in 1903, only one of the Marr automobiles survived, and it still exists today.
While Mr. Marr went on to be the first Chief Engineer for Buick, Frank Burgess and Henry Norton, the bookkeeper of Fauber Manufacturing, purchased the remains of the company and opened their own operation called Burgess-Norton Manufacturing. In Geneva, IL, Burgess-Norton still stands today and is the world's largest manufacturer of pistons and pins. The company is also one of the top five producers of powdered metal products and is part of Amsted Industries.
Burgess is the fourth generation in his family with a passion for automobiles and is raising the fifth: Burgess' two children, Lauren, 18, and Bradley, 20, have developed the same love for automobiles as generations before them. Following in their father's footsteps, both children had a lot of experience behind the wheel before ever hitting the road, repairing and driving vehicles on the family farm in Western Illinois. Burgess's two children and wife are all very involved with the Iron Gate Community.
"Auto mobility and the American Dream are tightly woven together and are an important part of our nation's fabric: past, present, and future," said Tom Burgess, owner of Iron Gate Motor Condos. "I'm having the time of my life delivering the Iron Gate Motor Condos, a community of the best car guys and wives on the planet. Great grandpa and Mr. Marr would be amazed at what they unleashed!"
Iron Gate Motor Condos is a proud sponsor of the Geneva Concours d' Elegance taking place this Sunday in the heart of Geneva's charming downtown. Classic Car enthusiasts will gather together and view a beautiful collection of antique, classic and modern automobiles. Participants from all over the Country will display their prized automobiles on Third Street, hoping to be awarded one of the coveted "Benz" Trophies. This event is open to the public at no cost making this a wonderful family event with something for everyone to enjoy and marvel.
For more information regarding Iron Gate Motor Condos, please visit IronGateMotorCondos.com or contact Becky Colbert at 630-945-1085 or becky(at)irongatemotorcondos(dot)com.
About Iron Gate Motor Condos:
Iron Gate Motor Condos in Naperville is the Chicago area's first, exclusive residence for classic, collector or exotic vehicles. Located just north of the intersection of I-88 and Rt. 59 on Ferry Road in Naperville, the Iron Gate facility offers owners a highly secure, controlled environment and the camaraderie of fellow garage owners, frequent car shows and timely events.