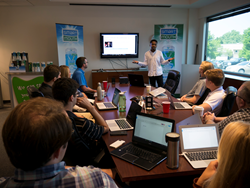 St. Louis, Missouri (PRWEB) August 24, 2017
The summer internship program at Triumph Pharmaceuticals was designed to provide the seven interns, all students at the University of Missouri (Mizzou), representing various fields of study including engineering, general business and accounting, the opportunity to learn more about digital and traditional marketing.
In addition to the daily work of writing content and observing social media and digital marketing efforts, Triumph brought in outside experts to provide training in e-commerce, Amazon, WordPress and business writing.
"We wanted our interns to get as much, if not more, out of their experiences here at SmartMouth as we were getting from them," says Andrew Burch, CEO of Triumph Pharmaceuticals and Mizzou graduate, class of '85. "So much is changing in the realm of consumer products and digital marketing, and as we've been embracing that we thought a summer internship for Mizzou students would be a great way to learn from this generation who is native to the digital age and also provide them with the chance to learn firsthand about marketing from our team."
One of the experts Burch brought in was Denzel Washington, brand manager at OmniiX, a Bentonville, Arkansas-based company that helps brands grow their business in the Amazon marketplace. Washington shared key insights about e-commerce and the changing, and declining, nature of brick and mortar retail sales in the face of increasing competition from online retailers and marketplaces.
"With the new emphasis on e-commerce, new graduates need to keep in mind where they will work and what they will be doing with their futures," says Washington. "There will be a huge demand for workers with experience in e-commerce that will apply to many fields, so the more they can learn about it now, the better off they will be when they graduate and start looking for a job."
To gain an understanding into how to write for a product and promote it on the web, the interns also attended a WordPress basics course from Brandon Miller of the Miller Group, and a business writing class from Mizzou graduate Becky Pagel of Accentra Communications.
"I learned a lot this summer as part of the SmartMouth team," says Grant Timm, one of the summer interns. "Working in the marketing department was a great experience. As an accounting student, it was interesting to learn about e-commerce, web design and writing because I think it will help me be more well-rounded when I graduate."
SmartMouth's activated oral rinses feature zinc ion technology that eliminates and prevents sulfur gas, which is the real cause of bad breath, to provide fresh, clean breath for 12 hours per rinse. Their oral health products can be found in more than 60,000 retail locations nationwide, including Walmart, Walgreens, CVS, Albertson's, Target and most drug and grocery stores.
About Triumph Pharmaceuticals
Triumph Pharmaceuticals, Inc., manufactures and markets SmartMouth branded mouthwash, toothpaste and mints through national retailers and online. Headquartered in St. Louis, Missouri, Triumph Pharmaceuticals and its SmartMouth brand have been working to end bad breath since 1993.