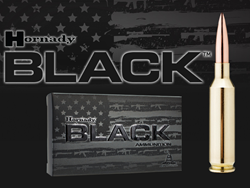 Montezuma, Iowa (PRWEB) August 23, 2017
Crow Shooting Supply is proud to announce it is now the exclusive distributor of the new Hornady Black 6mm Creedmoor 105 gr. BTHP ammunition. The ammunition – Hornady part #81396 – is available in 20-count boxes.
The Hornady Black line of ammunition uses high-quality components and is optimized for top performance in semi-automatic firearms – "black" guns – such as AR-15 or AR-308 style rifles.
A derivative of the 6.5 Creedmoor, the 6mm Creedmoor is rapidly becoming one of the most popular cartridges in precision rifle competition. It shoots flat and resists wind deflection while minimizing recoil.
"6mm Creedmoor is becoming a very popular cartridge," said Crow Shooting Supply founder Steve Crow. "We're very happy to be offering 6mm Creedmoor Hornady Black ammunition exclusively through Crow Shooting Supply."
To learn more about partnering with Crow Shooting Supply, visit http://www.crowshootingsupply.com or call 800-264-2493.
About Hornady Manufacturing
Founded in 1949, Hornady Manufacturing Company is a family owned business headquartered in Grand Island, Nebraska. Proudly manufacturing products that are made in the USA, Hornady Manufacturing is a world leader in bullet, ammunition, reloading tool and accessory design and manufacturer. For further information regarding Hornady products, visit the company web site at http://hornady.com. Media members interested in any Hornady products for editorial review should contact Neal Emery at nemery(at)hornady(dot)com.
About Crow Shooting Supply
Crow Shooting Supply is a family-owned national wholesale distributor of firearms, ammunition reloading components and shooting accessories. Proudly serving retail gun shops, major sporting goods stores, gun clubs, shooting ranges and government agencies for more than 30 years, Crow is a full-line supplier of more than 140 of the world's premier shooting industry manufacturers. For more information, visit http://www.crowshootingsupply.com or call 800-263-2493.
Media Contact:
Steve Crow, General Manager
(641) 623-8081 steve.crow(at)crowshootingsupply(dot)com