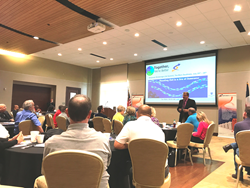 He didn't want to bother with life insurance because he was healthy. Or so he thought.
Southlake, Texas (PRWEB) August 24, 2017
Local company, Empower Brokerage, recently hosted its annual insurance summit in Southlake with the focus on awareness about consumer life insurance procrastination. Increasingly, American families are going without enough life insurance, or any at all. This epidemic has long-term consequences, says William Bronson – Marketing Director and Life Insurance Agent. "Recently, I learned of a friend who died suddenly at his office. He was just sitting at his desk one moment, and the next he was gone. It was so sad to think of his 5 kids and wife instantly on their own. But what really made it sad was that he didn't have a penny of life insurance. Nothing could persuade him. I had hounded him for years about it and even worked up some really good plans for him. Plan A covered all of his debt and would provide a sizable account, enough for his family to live off the gains. Plan B covered all of that, but also had a retirement income building feature so he could have a tax advantaged retirement. He liked Plan B but would never decide. He didn't want to bother with life insurance because he was healthy. Or so he thought."
Empower Brokerage is an FMO, Field Marketing Organization, with thousands of affiliated independent insurance agents across the country. Their main focus is educating agents about important trends, changes, and products in the insurance industry. This month they will host a summit of top producing agents in Southlake, Texas to discuss this increasing problem of breadwinners going without life insurance protection and leaving their families at risk. Enrique Torres, Life Insurance Product Specialist with Empower Brokerage says, "It's not only a problem in the Hispanic community. It's a problem across the board. I think it stems from regular people not having faith in financial institutions, which include insurance companies. People need to wake up and see that the financial tragedy, that happens from losing a whole income, can be easily avoided. Reaching those people with the right information is what we train agents to do and it's what we will focus on at the Summit."
Out of 324 million Americans, 60 percent report having some life insurance.
194 million report having some life insurance. That means 130 million people without life insurance at all. As alarming as that may seem, what's worse is that at least half of the people with life insurance don't have enough. Half of them have less than $100k and 25% of them have less than $25k in life protection. Put simply, that means half of the people who do have life insurance couldn't even pay off their mortgage with it.
Empower Brokerage has posted a dedicated website for the topic of Life Insurance, at https://empowerlifeinsurance.com