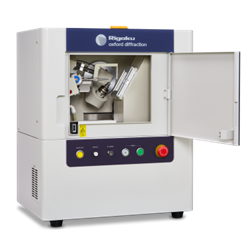 Hyderabad, India (PRWEB) August 22, 2017
Rigaku Corporation is currently participating in the 24th Congress & General Assembly of the International Union of Crystallography (IUCr), being held August 21- 28, 2017 in Hyderabad, India. Rigaku, the sole Diamond Sponsor of the event, is presenting its advanced lines of instrumentation and software in Hall 3, stall number 46.
In addition to hosting workshops and a competition, Rigaku Oxford Diffraction (ROD) is conducting an eagerly anticipated LiveLab, providing IUCr2017 delegates with the opportunity to collect single crystal or powder data live at the event. In a collaboration between Rigaku and IUCr Journals, delegates were encouraged to sign up to collect data on either a Rigaku single crystal or powder benchtop X-ray diffractometer and prepare an article for submission to an IUCr Journal.
Participants have the opportunity to avail themselves of one of two working benchtop diffractometers - the Rigaku XtaLAB mini II single crystal diffractometer or the Rigaku MiniFlex powder diffractometer.
The XtaLAB mini™ II benchtop X-ray crystallography system is a research grade, compact single crystal X-ray diffractometer designed to produce ready-to-publish 3D structures with exceptional quality, exceeding IUCr publication standards.
The new sixth generation MiniFlex™ X-ray diffractometer is the newest addition to MiniFlex series of benchtop X-ray diffraction (XRD) analyzers from Rigaku, widely used in research fields and in industry. It is a multipurpose analytical instrument that can determine: phase identification and quantification, percent crystallinity, crystallite size and strain, lattice parameter refinement, Rietveld refinement, and molecular structure.
Live updates of data collection are available via Twitter by following Rigaku Oxford Diffraction at twitter.com/Rigaku_OD.
More information about single crystal diffraction solutions from Rigaku is available at http://www.rigaku-od.com
About Rigaku Oxford Diffraction (ROD)
ROD was formed as the global single crystal business unit of Rigaku Corporation after the acquisition of the former Oxford Diffraction organization from Agilent Technologies in 2015. ROD is a leader in the field of single crystal analysis, both in the field of chemical crystallography as well as well as macromolecular crystallography. Formed in 1951, Rigaku Corporation is a leading analytical instrumentation company based out of Tokyo, Japan.
For further information, contact:
Paul Swepston, Ph.D.
Global Manager
Rigaku Oxford Diffraction
281-362-2300 x 111
Paul.swepston(at)rigaku(dot)com
###