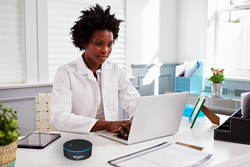 Sikka is harnessing artificial intelligence and natural language processing to help build a self-driving practice.
San Francisco, CA (PRWEB) August 24, 2017
Sikka Software, The Practice Optimizer Company®, will be at CDA San Francisco at Booth #311, demonstrating live the newest advance in artificial intelligence (AI), Practice Assistant. Staff will be on hand to assist dentists in experiencing firsthand how AI and natural language processing facilitates a self-driving dental practice, hands-free using a smart speaker.
Gene Dorff, Dentsply Sirona: "The Sikka Software advantage is the capture and proactive use of individual dentist practice data. Sikka Software compliments most practice management systems. I believe Sikka Software's products can improve the productivity and profitability of a dentist's office."
Practice Assistant is accessible by saying, "Alexa, open my practice" to any Amazon Echo device. This command connects the device to Sikka's HIPAA and HITECH Platform Cloud, compatible with 96% of practice management systems. Dentists can then ask Practice Assistant for their schedule and key performance indicators, including accounts receivable, open treatment plans, collections, new patients and more. This hands-free interaction allows dentists to maximize their time and schedule, fit in emergency patients and perform additional procedures to grow their revenue.
Vijay Sikka, CEO of Sikka Software: "Sikka is harnessing artificial intelligence and natural language processing to help build a self-driving practice. Our goal is to use technology to make managing a practice simple so dentists can focus on their patients while simultaneously increasing revenue."
Practice Assistant works from any location with an Amazon Echo device and Wi-Fi connection, so dentists can check in with their practice at home, on location, or wherever in the world they happen to be.
Dentists can visit CDA Booth #311 for a demonstration and to enter a drawing to win an Amazon Dot. A winner will be drawn every day of the show at 3 PM PST, on the dot. Plus, dentists get 6 months of Practice Assistant free when three referrals sign-up.
For more information and to get started with Practice Assistant today, visit https://store.sikkasoft.com/pa.
About Sikka Software
Sikka Software Corporation is revolutionizing the retail healthcare industry via its platform cloud, analytical tools, apps and big data leadership. The retail industry includes over 2.1 million providers worldwide and over 600,000 in the United States. The Sikka Platform Cloud allows seamless compatibility with over 96% of the dental, veterinary, vision care and hearing care markets in the United States. Sikka Software Corporation has over 24,900 installations and is experiencing strong growth and market presence in the retail healthcare big data space. For more information, please visit http://www.sikkasoftware.com.
Media Contacts:
Geoff Martin, Alitta Boechler
Sikka Software
408-876-4040