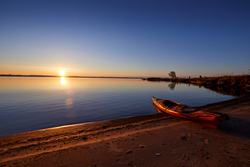 Kayak along Door County's 300 miles of shoreline.
Door County, Wisconsin (PRWEB) August 24, 2017
September is a great time to visit Wisconsin's Door County peninsula as warm temperatures linger and popular summer activities continue at a slightly more relaxed pace. Explore and unwind with a hike in a state park or sip a glass a wine at one of eight wineries on the Door County Wine Trail. Visitors can plan their vacation today at DoorCounty.com or by calling the Door County Visitor Bureau toll free at 800-527-3529.
September Special Events
•Take a fall getaway with a So Delicious, So Door County lodging package. From August 19- October 22 visitors can choose dozens of special culinary packages offering luxurious lodging, scrumptious food, a $25 Door County gift certificate and more!
•Enjoy one last festival before Labor Day at Sister Bay's Marina Fest, September 2-4.
•Cast a line during the Sturgeon Bay Open Bass Tournament, September 9.
•Sample some of the 100 different craft beers at Egg Harbor Ale Fest, September 16.
•Stroll down historic third avenue in Sturgeon Bay for Harvest Festival, September 16.
•Celebrate the first days of autumn in Baileys Harbor at AutumnFest, September 23-24.
•For the most comprehensive list of events, visit http://www.DoorCounty.com/events.
State and County Park Activities
Door County offers 5 state parks and 19 county parks across the 70-mile-long peninsula. Each park offers a variety of recreational opportunities and scenic beauty.
•Hike and learn about mushrooms at Whitefish Dunes State Park, September 2.
•Celebrate Wisconsin's only formally designated Wilderness State Park at Wilderness Day at Newport State Park, September 3.
•Bike throughout Door County at the Door County Century Bike Ride starting at John Miles County Park, September 10.
•Tour Peninsula State Park's Eagle Bluff Lighthouse at dusk for a twilight tour with songs and stories, September 29-30.
On Going Autumn Activities
•Visit Third Avenue Playhouse to see "Every Brilliant Thing," September 7- October 15.
•Taste the flavors of fall across the peninsula. Apple cider doughnuts, anyone?
•See the world premiere of "Naked Radio" by Northern Sky Theater at the Door Community Auditorium, September 1-October 21.
•Discover the many galleries located across the peninsula.
•Kayak along Door County's 300 miles of shoreline.
•Sip French style cider made from locally grown apples in the tasting room at Island Orchard Cider in Ellison Bay.
•Challenge friends and family with a visit to Schopf's Dairy View corn maze.
Stay Connected at DoorCounty.com
Door County is a bucolic peninsula that juts out into Lake Michigan in Wisconsin's northeast corner. Named one of the Top 10 Vacation Destinations in North America by Money magazine, Door County features 300 miles of shoreline, 11 lighthouses, 5 state parks and 19 county parks. It is known for its natural beauty, artistic offerings and year-round outdoor recreation opportunities.