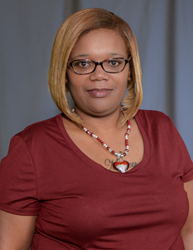 "My experience at UMA was awesome...I loved it."
Tampa, Fla. (PRWEB) August 24, 2017
Ultimate Medical Academy is proud to highlight Tomika Eggleston, a resident of Gates, North Carolina, and a 2017 graduate of Ultimate Medical Academy's Healthcare Management Associate Degree Program. Eggleston was already working in healthcare as a certified nursing assistant (CNA), but wanted to play a larger role within the healthcare field. She knew that pursuing an associate degree in healthcare management would open new career opportunities for her and provide for a better life for her family.
"I was inspired to go back to school because of my kids…and to do better for myself, to [do more than] being a CNA," Eggleston said. "That's why…UMA was a great choice."
While earning her associate degree, Eggleston overcame several challenges along the way. She juggled a full-time job and single motherhood while working to complete her coursework. Ultimate Medical Academy's flexible online courses and advisors, along with her own drive and determination, helped Eggleston during those trying times.
"My experience at UMA was awesome," Eggleston said. "My advisor, Jatoia, kept me on my feet. She always called me to make sure I was okay. My instructors also called if I was behind to make sure I was [staying on track]."
Eggleston credits Ultimate Medical Academy's Career Services with helping her achieve success and advance in the healthcare industry. With her degree, she earned a promotion and secured a human resource specialist position at Vals Home Healthcare in Ahoskie, North Carolina. In this role, Williams is responsible for benefits, employee relations, administrative duties, and more.
"The best things about UMA [are] the advisors and the instructors," Eggleston noted. "They encourage you, they make sure you're okay. If you need anything, they will help you with whatever you need."
Ultimate Medical Academy President Derek Apanovitch said, "Students like Tomika are the reason we do what we do. We offer a wide variety of student and career support services to equip and empower our students to succeed at school and in their healthcare careers. Seeing students like Tomika do well after graduation makes all of us at Ultimate Medical Academy very proud."
Watch Eggleston's personal testimonial here.
ABOUT ULTIMATE MEDICAL ACADEMY
Ultimate Medical Academy is a nonprofit healthcare educational institution with a national presence. Headquartered in Tampa, Florida and founded in 1994, the school has more than 40,000 alumni and offers content-rich, interactive online courses to almost 14,000 students as well as hands-on training to hundreds of students. Ultimate Medical Academy students have access to academic advising, one-on-one or group tutoring, résumé and interview coaching, job search assistance, technical support and more. Ultimate Medical Academy is institutionally accredited by the Accrediting Bureau of Health Education Schools (ABHES). Learn more by visiting https://www.ultimatemedical.edu/.