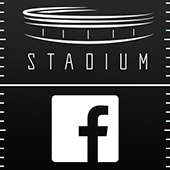 Chicago, IL (PRWEB) August 23, 2017
Stadium, the new, fully programmed, multi-platform sports network, has partnered with Facebook to deliver an exclusive, season-long package of live college football games. The 15-game lineup includes nine Conference USA match-ups and six games from the Mountain West Conference. The slate is headlined by elite talent such as Wyoming quarterback Josh Allen, a potential top pick in next year's NFL draft, and top coaches such as Lane Kiffin, starting his first year at Florida Atlantic.
Custom-produced for a Facebook audience, Stadium will introduce uniquely coordinated production assets and social elements to create a first-ever viewing experience. Specific elements are projected to include:

Live curated chat experiences from well-known and well-respected football personalities running concurrently with the live production, closely coordinated with the production truck and on-air presentation.
Dedicated social production team and correspondents working the sidelines of the game to bring the in-game experience to the viewing audience at home and engage them in conversation.
Ongoing integration of real-time social elements provided by the competing schools.
The action kicks off on September 2nd with a doubleheader on Facebook as Miami (OH) takes on Marshall at 6:30 p.m. ET, and UC Davis and San Diego State go head-to-head at 8:30 p.m. ET. The games will be available to a global audience on Facebook on the Stadium: Live College Football Show Page. People in the United States will also be able to find the games in Watch, Facebook's new platform for video.
The Facebook-exclusive lineup comes in addition to Stadium's 25 game schedule announced last week, which will be featured exclusively within Stadium's digital and broadcast linear experiences. Stadium features exclusive live and on-demand games and events, extensive highlights, classic games, original programming and daily live studio programming across its digital and broadcast linear feeds.
The full schedule of games on Facebook can be found below (all times in ET).
Week 1
Saturday, September 2
Miami Ohio at Marshall, 6:30 p.m. ET
UC Davis at SDSU, 8:30 p.m. ET
Week 2
Thursday, September 7
Idaho State at Utah State, 8:00 p.m. ET
Saturday, September 9
New Mexico State at New Mexico, 8:00 p.m. ET
Week 4
Saturday September 23
FIU at Rice, 7:30 p.m. ET
Utah State at San Jose State, 7:30 p.m. ET
Week 5
Saturday, September 30
Texas State at Wyoming, 4:00 p.m. ET
Week 6
Saturday, October 7
Southern Miss at UTSA, 7:00 p.m. ET
Week 7
Saturday, October 14
Wyoming at Utah State, 4:30 p.m. ET
Week 8
Saturday, October 21
Rice at UTSA, 7:00 p.m. ET
Week 9
Saturday, October 28
FIU at Marshall, 2:30 p.m. ET
Week 10
Saturday, November 4
North Texas at LA Tech, 3:30 p.m. ET
Week 11
Saturday, November 11
Southern Miss at Rice, 3:30 p.m. ET
Week 12
Saturday, November 18
Marshall at UTSA, 7:00 p.m. ET
Week 13
Saturday, November 25
FAU at Charlotte, 2:00 p.m. ET
About Stadium
Stadium is a new multi-platform sports network featuring exclusive live and on-demand games and events, extensive highlights, classic games, original programming, and daily live studio programming. Stadium was formed when Campus Insiders, 120 Sports and The American Sports Network merged into a singular network to take advantage of a combined collection of professional and collegiate rights and unique access to both digital and television distribution opportunities.
Stadium includes a 24/7 linear feed distributed across both digital and broadcast platforms, as well as a comprehensive array of on-demand (VOD) digital content including additional live games and events. Stadium is owned by a collection of industry leaders including Silver Chalice, Sinclair Broadcast Group, MLBAM, the NHL, the PGA TOUR, and Time, Inc. To learn more, visit: http://watchstadium.com/.