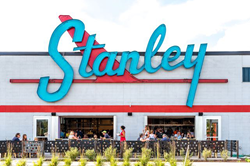 Restaurant highlights include a 35-foot service counter, clad in beetle kill pine, displaying the origin of Sazza ingredients.
Denver, Colorado (PRWEB) August 23, 2017
When Denver restaurateur Jeff Rogoff was invited to open a second, larger incarnation of his successful Sazza super-sustainable pizzeria in Stanley Marketplace – an intriguing food-centric collective developing in a converted former aviation manufacturing plant in Aurora, Colorado – he turned to the award-winning Boulder/Denver architecture firm Arch11.
Colorado residential and commercial architects Arch11 have designed a long list of top Denver and Boulder area eateries including Jax, Zolo, Lolas, Bitter Bar and OAK at Fourteenth, which consistently ranks high on EaterDenver and 5280 magazine's top restaurant lists. Another recent Arch11 design, for Blue Island Oyster Bar in Denver's Cherry Creek neighborhood, was recently named one of 11 inspiring restaurant interiors nationwide by popular cooking and dining website Food52.
Arch11's embrace of eco-friendly design, a central tenet of its commercial and residential architecture since the firm's inception, was an ideal fit for the new incarnation of Sazza, which devotes its menu to all-natural, organic and sustainable sources. "We were tasked with creating a dynamic space that represents Sazza's commitment to food production and locally sourced ingredients," says Arch11 architect Nathan Gulash, who used many local artisans to execute the plans. "In order to tell their story," he adds, "you have to be able to see everything."
To achieve this level of transparency, Gulash and Arch11 principal James Trewitt developed a series of 15- and 18-foot-tall glass and steel louvers for the restaurant's entry. In lieu of a standard storefront, the locally fabricated kinetic door system rotates gently to open the entire front of the restaurant. "It diminishes the delineation between the restaurant and the public it wishes to interact with," explains Gulash. "The doors become a functional metaphor for Sazza's transparency, process and mission."
Other restaurant highlights include a 35-foot service counter, clad in beetle kill pine, displaying the origin of Sazza ingredients – including from its on-site, half-acre farm. Guest tables were constructed from salvaged 18-wheeler truck beds, glasses repurposed from wine bottles and light fixtures rescued from the original Stanley building and retrofitted with LEDs. Even the gas-fired pizza oven had a previous life, yet functions perfectly for Sazza's thin crust pizzas. The light and airy restaurant also features an outdoor patio and community room where classes, demonstrations and get-togethers can be held.
Arch11's stylish design for the Stanley Marketplace Sazza is one in a long list of the firm's contributions to the region's thriving dining and drinking scene. Other recent Arch11 restaurant designs include such favorites as the Platte Valley's Brider where Chef Steven Redzikowski (EaterDenver's 2015 Chef of the Year; Food & Wine regional "People's Best New Chef") and restaurateur Bryan Dayton – the successful partners behind award-winning OAK at Fourteenth in Boulder – enlisted Arch11 to design their newest fast-casual rotisserie restaurant. Inspired by traditional open markets, the Arch11 design creates a timeless "old world" kitchen feel. A layering of textures, geometric wall planes and custom built-ins, along with bright and classic furnishings, mingle the old-soul feel with a clean modernism that matches the neighborhood's renewed vitality.
For Blue Island Oyster Bar, Arch11 repeat client Concept Restaurants decided to bring an authentic oyster bar to the Denver market. Taking cues from well-worn beach-side oyster joints, Arch11 created a comfortable, communal atmosphere in the swank Cherry Creek North neighborhood that referenced seaside roots while successfully leaving nautical cliché behind – and won a spot on EaterDenver's top five "stone-cold stunner" designs of 2015. Describing the design as "ocean-airy," Food52 also took notice of the Arch11 restaurant design with its honoring of Blue Island Oyster Bar as one of a handful of U.S. eateries that "couple thoughtful menus with thoughtful ambiences." The subtle nods to the nautical atmosphere make it "feel like an oasis on the coast of Maine," wrote the foodie website about the restaurant.
The Arch11 team is also behind Denver's elegant Humboldt and upscale Ballpark neighborhood watering hole Whiskey Tango Foxtrot, and is currently working on the design for Bryan Dayton's Corrida, a much-anticipated Spanish Basque country-influenced rooftop restaurant in Boulder planned for a Fall 2017 opening. That restaurant will feature one of Boulder's only unobstructed views of the famed Flatiron rock formations.
Arch11's approach to restaurant design – allowing the dining space to celebrate the food and the chefs who are creating it rather than inventing an overpowering atmosphere – provides a refreshing direction for chefs and restaurant groups hoping to capitalize on Denver and Boulder's ever-maturing palate. And the architects, perhaps even better known for creating innovative highest-quality contemporary residences, bring that same philosophy and expertise to the home kitchens they design, including for the LEED Gold-certified Syncline House near Boulder, a Sub-zero/Wolf Kitchen Design Contest winner.
About Arch11:
Founded in 1993, Arch11 has gained recognition for projects ranging from exceptional residences to institutional planning, mixed-use development and product design, including a 2009 Firm of the Year Award from the Colorado AIA North chapter, and in 2017 principal E.J. Meade received Colorado Homes & Lifestyles magazine's Circle of Excellence Award. The firm's heirloom-quality custom homes have been featured in publications including The New York Times, Wall Street Journal, Dwell and Fine Homebuilding. With offices in Boulder and Denver, Colo., Arch11 has over 30 combined years of green building technology leadership. The staff's unusual level of hands-on experience ranges from boat building to furniture making, contributing to its reputation for commitment to craft, detailing and design integrity. For additional information visit http://www.arch11.com.
Contact: Sarah Goldblatt, sarah(at)wordprmarketing(dot)com, 303.777.7667