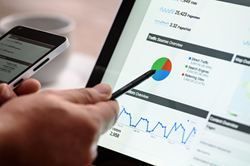 The fact is that when small businesses flourish, the economy flourishes.
(PRWEB) August 25, 2017
Agencies are sprouting up like weeds in this economic boom. People understand that search engines play a major role in how new customers find their business but they don't know how to use that to their advantage. That's where digital marketing agencies come in; but how do businesses choose the right one for their needs. They can be costly and without proper knowledge, people could end up with an agency that turns into a real money pit for their business.
The digital marketing company, WebCroppers, has dedicated it's time to ensuring that businesses get the best possible results, even if it's not with them.
For this reason, the team at WebCroppers has decided to launch a helpful guide so businesses can choose the right digital marketing agency for them.
WebCroppers spokesman, Eugene Feinman, gave a few words on the company's philosophy and why they decided to help out the small business community.
"From day one, we wanted to build something that would ultimately serve the greater good. The fact is that when small businesses flourish, the economy flourishes. That's why, when people go to our site, they can find a section that provides free information and tools that are designed to help businesses use the marketing strategies we use, even if they had no prior knowledge of the material. The bottom line is that we want to help."
Here are the tips people should look for when hiring a marketing agency.
Repurposing Content
When a business has a piece of content, say for a new article, it shouldn't just be published by one outlet. The same idea applies to different platforms. This includes blogs, social media, press releases, email campaigns, etc. By repurposing a piece of content in such a way that allows the business to provide seemingly fresh material that works well through all these platforms, they can help maintain an engaged audience across every electronic plain. This way, someone that responds well to emails and doesn't use social media can still receive the news and seek that business and their product or service.
Understanding a Target Audience
Having good content isn't enough. Businesses need to know their audience on an individual level and leverage that across the platforms that work best for them.
As an example, people can look back to the person that responds better to email ads than social media. By segmenting a target audience, a business can repurpose content to target the people that love email ads, the people that love to buy what they see on social media, or the people that like reading about products from a reliable news publication. Each audience is unique in their own way and by developing a system in which to list people, businesses typically have better conversion rates.
SEO
If the marketing agency is more into link building and black hat methods, instead of search engine optimization (SEO), there's a definitive problem. Next to paid advertising, organic search is the largest way businesses generate traffic. They achieve this by having professionals write the content on their site and build the website to give a great UI/UX performance for the user. Search engines then comb through the content and determine its relevance to searchers. The better a site's SEO, the more likely they will show up on search engines as the number one result for a relevant search query.
A marketing agency shouldn't just mention SEO, they should flaunt it.
Quality of Previous Work
With marketing agencies coming out of the woodwork, it's easy to choose one based on what they've actually accomplished. In truth, anyone can claim they are an expert, but so few actually have the resume to back it up.
When businesses look for a digital marketing agency, they should be able to see previous work in the form of case studies and past clients that maintain a successful model of business.
Without these, the agency has nothing to back up their claims of success.
Technology to Measure Success
According to the team at WebCroppers, "Many things have changed since the advertising days of Don Draper." When a business gets a client in their store by chance, what's to stop a marketing agency to claim it was because of them? Technology has become essential for building audience lists and tracking where leads came from. By tracking this behavior over time, good digital marketing agencies use this data to make predictions and create models that take a business to new heights.
People should look for agencies that incorporate technology and use it as the driving force of their marketing strategies.
Webcroppers has helped many local businesses over the years and has the track record to prove its success. For free information about digital marketing, visit WebCroppers.com today.