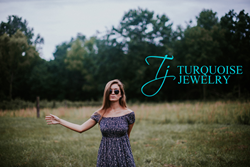 What makes Gypsy fashion appealing to the public is this sense of freedom. The sense that you can go anywhere and do anything has always been a fascination of our society
(PRWEB) August 28, 2017
A new style that's quickly sweeping the nation, sometimes called Gypsy Chic or Boho, is something that emphasizes the creative ideas and freedom of spirit that went along with the Bohemian renaissance of art and music.
This new revolution has taken the form of a fashion trend and younger audiences can't seem to get enough of the popular style that expresses ideology more so than any one static feature or accessory. The eclectic style brings together Southwest Native American and modern trends, culminating in a completely new and unique fashion the world has never seen before.
One company that sees the value in this new fashion wave is TurquoiseJewelry.com. The contemporary jewelry site works with Southwest and Native American artists in the area to sell their work to the greater public. This offers exposure to artists and insights into Native American culture.
The spokesman of TurquosieJewelry.com, Jack Burch, had this to say,
"What makes Gypsy fashion appealing to the public is this sense of freedom. The sense that you can go anywhere and do anything has always been a fascination of our society. The fact that people are free to create their own interpretation of this style gives it greater meaning. It's a perfect combination of the style and the meaning behind it."
The company is releasing a new collection of turquoise jewelry that goes with this new wave of fashion quite well. According to the team, They've been working on this collection over the past few months.
People can expect to find earrings, rings, bracelets, necklaces, and bolo ties, to name a few items. The Southwest designs that were brought in by artists of the Four Corners region, gives any outfit a truly unique flair, according to the team.
The spokesman also added, "One thing we tried to achieve when we went to our artists is to maintain a theme of freedom. You can definitely get a sense of that in pieces that have horses worked into the silver, running free, butterflies made from turquoise stones flying around your accessories, it all goes back to this same motif."
Those interested in seeing more of the new collection of Gypsy style fashion and jewelry can visit TurquoiseJewelry.com for more.