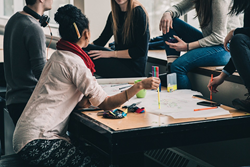 When you don't use proven successful strategies, you're bound to fail in time.
(PRWEB) August 28, 2017
For years, brands like Apple, Microsoft, Amazon, and eBay have dominated their industries in ways that could never have been imagined before 1995. In effect, small businesses seem to struggle in their wake, when really they should be taking a page from their book, according to the team at WebCroppers.com.
For the past few years, WebCroppers.com, a local digital marketing agency, has taken the opportunity to reach out to smaller businesses that struggle to get their name out there. They want to help them with a few pieces of advice based on the strategies of these household names.
WebCropper's spokesman, Eugene Feinman, had a few comments during the release of this information.
"When a business fails, it's usually because they can't compete with a major retailer that's just down the street. They rely solely on the fact that they have a better product. That might be the case, but when you don't use proven successful strategies, you're bound to fail in time. That's why my team has put together some tips that small businesses can use based on the strategies of these titans and how they used their advertising to get well ahead of the curb."
Here are some strategies to take from major brands that small businesses can use.
Rethink Your Category
One way Apple gets away with charging the amount they do for a computer is that they appeal to people that consider themselves, unique and creative. Although they are just a technology company, they don't market themselves as "the best in their industry," as many amateurs do. They consider themselves the brand that the artist chooses and go out of their way to make sure everyone knows it.
By featuring famous artists like Taylor Swift or actor, Justin Long, Apple subtly achieves the desired effect that has their audience connect creativity with their brand.
While most businesses can't afford a celebrity cameo, they can use images and create a design for their website that goes beyond a simple niche and sets their business apart from the rest.
Distinct Brand Personalities
High end brands seem to flock to different audiences, even when they produce the same product, while small businesses compete for the same general audience. To give an example, Versace is focused on the free-spirited and rebellious audience, while another major brand in the industry, Giorgio Armani, is focused on the sophisticated and elegant woman. In this way, they don't have to vie for each other's demographic.
A business can choose their niche and decide what type of audience they want to target with their advertising. If the business sells women's fashion, they can decide if they want to focus on how a woman looks in their dress or they can choose to focus their advertising on the woman in the dress.
They might sound similar, but these are two vastly different audiences.
Visuals to Pin the Idea in the Audience's Mind
Appealing to someone's emotions is one of the strongest ways in which a company can direct traffic to their brand. From high-resolution videos to crisp images, major brands like Duracell use this tactic often. Most people are familiar with their commercials that show how their technology goes into a lot of hospital equipment that saves lives.
Do they actually save lives? No. Hospitals and doctors do, but the emotion is there. Audiences can make the connection that these institutions rely on Duracell for something as important as saving lives so they can trust their brand to power their flashlight when they go camping.
That image of a sick child getting better stays with the audience and they remember it when they go shopping.
There are also some fascinating psychological elements that major brands implement to use visuals on their audience, such as early morning emails with vivid images to spark the brain as its waking up in the morning. This forces the mind to think of that brand throughout the day, whether they deleted the email or not.
Images and video are powerful tools for large corporations and can make all the difference for small businesses as well.
Exclusivity
What makes a Tiffany's necklace and a Kay Jeweler necklace different? The difference is in the price, the logo, and not much else. They can make a claim for their unique designs but when people see a silver chain necklace with a lapis pendant, there's not much variation that can be achieved.
Yet, Tiffany's can charge more for their products. The exclusivity rests in their brand. A company with nearly 200 years in the industry and worn by famous actors for nearly as long intrigues people.
A new business can achieve a similar effect as well. High-quality is something to push, especially if the business features products that are hand-made by highly-skilled artisans. While that does limit some businesses from being able to meet the demand of larger audiences, they create a sense of exclusivity through a limited product that is fundamentally unique, even if the design is similar.
Partnerships
Sometimes major brands partner with less expensive stores to allow people with less money to have access to their product in some form or another. It's not just about increasing reach in a physical sense. Many brands look to the future when they consider their target audience. While younger audiences may not be able to afford their product now, maybe 5, 10, or even 15 years down the road, they might.
By allowing other stores to do the footwork, these businesses gain exposure to younger audiences that might become loyal fans of the product later on.
Webcroppers believes that any business, large or small, can start implementing these tactics and see results, they just need the right tools and expertise.
For more information or to get exposure for your business, contact the experts as WebCroppers.com, today.