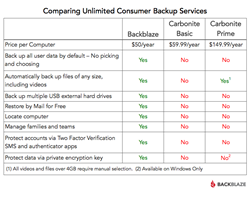 San Mateo, California (PRWEB) August 23, 2017
Backblaze, a leading unlimited data backup provider, announced today the general availability of version 5.0, its flagship Backblaze cloud backup service. All new customers signing up for Backblaze Personal Backup and Backblaze Business Backup services will automatically receive the release 5.0. Existing customers will be upgraded for free to the new version over the coming weeks.
Backblaze Release 5.0 is a combination of new features and feature improvements designed to make working with Backblaze even faster and easier. Improvements include: faster backups and restores, and accelerated file browsing when using the web user interface to access files. New features include:

Image Preview – When logged into their Backblaze account, users will have the ability to view (not just preview) most types of image files, without having to restore the file.
Individual File Download – Users can now download single files from their Backblaze backup directly to their computer without having to go through the restore process.
File Sharing – Users can now share files from their Backblaze backup by sharing a "download" URL to the file. Users get up to 10GB of free space they can use to share files.
Release 5.0 also includes our latest security updates including two-factor verification via authenticator applications like Google Authenticator and Authy. To enable that, we now support the "ToTP" (Time-based One Time Password) protocol. This is the underlying authentication algorithm for a vast majority of authentication apps on the market today. A user that has ToTP enabled can use their authentication app of choice for an added layer of security with Backblaze.
Backblaze Computer Backup and Backblaze for Business continue to be offered for just $50/year per Mac of PC client. Competitive services like Carbonite for Home Basic cost $59.99/year/computer. Both services provide unlimited storage, but Backblaze also includes External Hard Drive Backup, Automatic Video Backup, and Courier Recovery Service in their $50/year service. To get those same capabilities with Carbonite a customer would have to pay for Carbonite for Home Prime, which costs $149.99/year. In addition, Backblaze offers its Restore/Return/Refund program which allows customers to restore their data, up to 3.5TB on a USB hard drive, then return the drive within 30-days and get their money back. Backblaze also includes Find-My-Computer, built in file sharing, family friendly group functionality, and the ability to use the same account to manage both cloud backup and cloud storage if desired.
"Release 5.0 demonstrates our continued commitment to the consumer and small business backup markets," said Gleb Budman, CEO and Co-founder of Backblaze. He continued, "As other vendors are reducing services or exiting the market entirely, we look forward to building on our 10 year heritage of providing an amazingly easy-to-use backup service at an affordable price."
You can try Backblaze for free by visiting backblaze.com/backup. There is no credit card required and no obligation to purchase when the trial is done.
About Backblaze
Backblaze delivers astonishingly easy and low-cost cloud backup and cloud storage. Their award-winning Backblaze Personal Backup and Backblaze for Business cloud backup solutions are just $50/year/computer for unlimited, automatic data backup. Their B2 Cloud Storage platform, at just $0.005/GB/month for data storage and $0.02/GB for data retrieval, offers developers, IT professionals, and MSPs, the lowest cost ready access cloud storage anywhere on the planet - less than 1/4th the cost of all leading providers. Today Backblaze securely stores over 350 petabytes of data, has recovered nearly 25 billion files for customers, generates double-digit millions in annual revenue, and is one of the fastest growing technology companies in the US. For more information on Backblaze please visit http://www.backblaze.com.