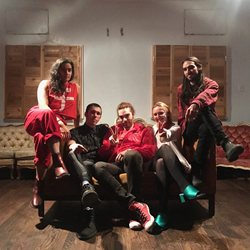 An electrifying sound that is entirely their own. - The Deli Magazine
New York, NY (PRWEB) August 24, 2017
Having built a reputation — in just six months — for their energetic live performances, and fresh off a northeast concert tour, the NYC-based band Strange Loops announces the official release of its debut EP, New Era. Combining soul-drenched power-vocals, funk-tinged hooks, and a disco-worthy frenetic rhythm section, Strange Loops delivers classic-rock sound with a youthful attitude.
Featuring Sofie "Sef" Kapur (lead vocals), Tyler Postiglione (guitar), Santi Hervella (drums), Nardo Ochoa (bass, vocals), and Mackenzie Leighton (keyboard, vocals), New Era is a dynamic sampler of Strange Loops' finest efforts thus far.
"Ripple On," New Era's opening track, breathes life anew into the pop ballad with breezy riffs and harmonies over an intricate, but infectious, melody. In "Collegiate Sport 10," lead singer Sofie Kapur dances between fuzzy bass lines and a pulsing drumbeat, belting guttural garage-rock while maintaining a uniquely delicate quality. "This World Is Not For You," a stadium-ready anthem, closes the EP with driving instrumentation, starkly honest lyricism, and stripped-bare vocals.
Self-produced, the recordings were mixed and mastered by Tyler Postiglione.
The EP will be available for digital purchase and streaming through most major digital distribution partners on August 24, 2017.
Press Release Contact Info:
Julia Leonardos
Press Manager
strangeloopsnyc(at)gmail(dot)com