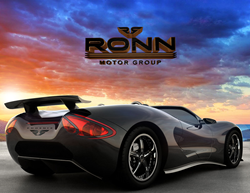 CHANGE START HERE, WITH US TODAY!" - Ronn Ford, CEO of RONN Motor Group
Scottsdale, AZ. (PRWEB) August 24, 2017
Ronn Motor Group, Inc. (RMG / RONN Motor Group), the automotive company behind the eco-friendly Scorpion, featuring one of the most advanced real-time hydrogen fuel enhancement systems to date, recently announced a Regulation A+ Mini-IPO that gives most investors the opportunity to invest in its company. RONN Motor Group plans to evolve the Scorpion into an all-electric roadster called the Phoenix. The Phoenix will be equipped with a hydrogen fuel cell range extender providing a total estimated range of 600 miles, and having an estimated MSRP of $150,000. The Phoenix will serve as the platform for RMG's eco-daily drivers (EDDs), the next generation of affordable and environmentally friendly vehicles, as well as zero-emission fuel cell minibuses and commercial trucks.
The proceeds from the Reg A+ stock offering will enable the Company to advance its business plan to expand research and development efforts and vehicle production in Sweden and China.
"As an issuer we appreciate the advice and guidance offered by engaging with an SEC registered broker-dealer," said Ronn Ford, founder and CEO of RONN Motor Group.
"For issuers the Regulation A+ offering can be less expensive and burdensome than the traditional IPO process," stated Carlo Corzine of Dawson James. "We are excited to partner with RONN Motor Group as it goes through its Reg A+ offering and the qualification process for listing on a national exchange," he concluded.
About RONN Motor Group, Inc.
Scottsdale, Arizona-based RONN Motor Group, Inc. (http://www.ronnmotorgroup.com) is an automobile manufacturer focused on becoming a world leader in developing hydrogen-electric zero-emission automotive and transportation designs.
About Dawson James Securities, Inc.
Dawson James Securities specializes in capital raising for small and microcap public and private growth companies primarily in the Life Science/Health Care, Technology and Consumer sectors and is a full service investment banking firm with research, institutional and retail sales, and execution trading and corporate services. Headquartered in Boca Raton, FL, Dawson James is privately held with offices in New York, Maryland, New Jersey, and North Carolina (http://www.dawsonjames.com). Member FINRA/SIPC.
Legal Disclaimer
No money or consideration is being solicited by the information in this press release or any other communication and, if sent, money will not be accepted and will be promptly returned. No offer by a potential investor to buy our securities can be accepted and, if made, any such offer can be withdrawn before qualification of this offering by the SEC. A potential investor's indication of interest does not create a commitment to purchase the securities we are offering. Any such indication of interest may be withdrawn or revoked, without obligation or commitment of any kind, at any time before notice of its acceptance is given and all other requirements to accept an investment from a potential investor are met after the offering qualification date.
The offering, after qualification by the SEC, will be made only by means of the Offering Circular. Any information in this press release or any other communication shall not constitute an offer to sell or the solicitation of an offer to buy, nor shall there be any sale of these securities in any state or jurisdiction in which such offer, solicitation or sale would be unlawful prior to qualification for sale as provided in Regulation A+ in any such state or jurisdiction.
Safe Harbor Statement
Safe Harbor Statement under the Private Securities Litigation Reform Act of 1995: This news release may contain forward-looking information within the meaning of Section 27A Of the Securities Act of 1933, as amended, and Section 21E of the Securities Exchange Act of 1934, as amended, including statements that include the words "believes," "expects," "anticipates," or similar expressions. Such forward-looking statements involve known and unknown risks, uncertainties and other factors that may cause the actual results, performance or achievements of the Company to differ materially from those expressed or implied by such forward-looking statements.
For more information, please contact:
Lana Rushing for RONN Motor Group, Inc.
lana(at)rushingpr(dot)com
310.428.1805
Carlo Corzine, Investment Banking and Syndicate Principal
ccorzine(at)dawsonjames(dot)com
561-208-2984