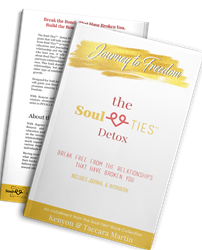 "The book isn't just about getting over your ex and THRIVING," Taccara said. "It's about uncovering past wounds that may have contributed to your present relationship choices."
Atlanta, GA (PRWEB) August 24, 2017
"Initially, I wasn't quite sure exactly what to expect from this book," one reader says. "I assumed it would be sugar coated with scriptures and wouldn't convey the raw emotions that I was dealing with, or would tell me to just pray my way through. It does include God and scriptures, but it also forces you to look at the naked inner you!"
Now in its second edition, The Soul-Ties Detox book takes readers on a journey of recovery from toxic relationships. Using principles of journal therapy, while offering insightful teaching and gut-wrenching realness, Kenyon & Taccara helps readers understand that their tolerance for toxic love was shaped in them long before THIS relationship broke them —and then they are guided through a journey of acknowledgement, acceptance, accountability and forgiveness.
"The book isn't just about getting over your ex and THRIVING," Taccara said. "It's about uncovering past wounds that may have contributed to your present relationship choices." According to Dr. Adrian Furnham, a professor of psychology at University College London, this type of journal therapy, "is much more than simply trying to write pretty sentences. It is about singling out experiences, events and people that contributed to one's life. Seeing cause and effect, understanding psychological processes, can significantly increase self-understanding." Kenyon and Taccara's approach to healing from toxic relationships is based on the idea that, if they can get their readers to understand HOW they came to a place of making poor relationship choices, then they will be empowered to make BETTER choices for their future.
Even though their brand and their books are faith-based, Kenyon and Taccara are convinced that their program includes the right balance of spirituality with practical, therapeutic exercises that anyone can benefit from, regardless of their faith or spiritual practices.