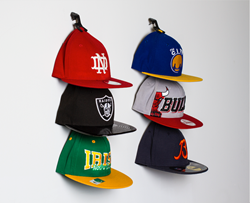 Carlsbad, CA (PRWEB) August 23, 2017
The Caiman Hat Clip, whose name is derived from the Caiman crocodile - a rare South American species, is engineered to use special, jaw-like grabbing teeth to hold hats firmly in place. The California-based startup company behind Caiman launched the product on Kickstarter at the start of August with a $30,000 funding goal. The campaign is well on its way to funding with more than 400 backers to date.
Engineered around form and function, the Caiman Hat Clip holds hats by their button and includes a small hook so users can enjoy displaying or storing their hats without damaging them or worrying about taking up space. Just this week, the Caiman team announced a new way to utilize the clip. In addition to hanging hats from a hanger, (which can hold up to 10 hat clips at a time) the Caiman Hat Clip can also be hung on the wall for those who like to display their hat collection rather than stow it away in a closet.
Because of the simplicity of their product, the team knew they needed something different when filming their Kickstarter video. After months of extensive research, the Caiman Team hired a professional hat trick dancer, Tahrod Smith. With over 10 years of experience as a professional dancer and a viral YouTube video under his belt, Smith's skills were put to the test and the result absolutely did not disappoint.
Caiman's plastic grip and hook, available in white, gray, or black, is small and strong. On one end, a patented grip is ready to hold a hat by the button on top of it, letting hats retain their natural form and orientation while hanging. On the other end is a small, simple hook. The hat will remain locked in the button even under considerable force or changing orientation, meaning hats will stay attached while traveling in vehicles or suitcases as well. The Caiman team has worked hard to develop the perfect design that not only delivers, but is also aesthetically pleasing at a low price point.
To help jumpstart the mass manufacturing process, the Caiman team has turned to the Kickstarter community in order to begin distributing hat clips worldwide. Caiman Hat Clips, which are available starting in sets of 10, are available to backers at discounted prices starting at only $10. Once funded, the clips are expected to deliver this fall. For more information on Caiman, or to back the campaign, visit bit.ly/Caiman_KS.
About Caiman Hat Clips
Founded by Ian Kovacevich in 2017, Caiman is a Carlsbad-based startup with a primary focus on the headwear and clothing-storage industry. Their newest product, the Caiman Hat Clip, is a dual-sided hat clip designed to hang hats in a natural position for up to ten on a hanger. Check out the team's brand new promo video here.