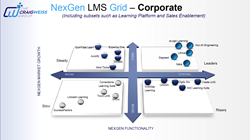 eLogic is constantly pushing themselves to design and deliver on forward-thinking Nexgen functionality and application improvement.
(PRWEB) August 24, 2017
In a recently released NextGen LMS Grid (similar to that of Gartner's Magic Quadrant) created by LMS leading industry analyst The Craig Weiss Group led by their CEO Craig Weiss, eLogic Learning was positioned as a Leader in NextGen learning management system (LMS) functionality and market growth. And, the company couldn't be more excited.
The grid, which features 20 corporate LMS vendors, is divided into four different quadrants: Leaders, Risers, Steady, and Slow; again, based on Nextgen LMS functionality and market growth. This Nextgen functionality is based not only on what is currently considered Nextgen (social, gamification, UI/UX, etc.) but also where that LMS functionality is going.
Some of eLogic's Nextgen features that were highlighted by Weiss include its:

Learning Record Store (LRS)
Content Curation
Ask an Expert
Mobile readiness
Gamification
Video management
Modern and Intuitive UI
And more…
"eLogic is constantly pushing themselves to design and deliver on forward-thinking Nexgen functionality and application improvement," says Weiss. "That's why it was a no-brainer to include them in the Leaders quadrant."
In an industry of 1300+ systems, being able to stand out as not only a leader of Nextgen functionality and growth but also as the #1 ranked LMS by The Craig Weiss Group brings a sense of great accomplishment to the eLogic Team.
"I am super excited about the recognition to the Team and the eSSential LMS in the Nexgen category. So much of this functionality was designed and put into action over the last 2 years. This recognition as a "Strong Leader" and recognized with a field of great competitors really make me proud," says Mark Anderson, CEO of eLogic Learning. "Thanks to our client partners and our advisory group for input and direction. Stay tuned as we have so much more coming and are really motivated by this recognition."
To see the NextGen LMS Grid for yourself, visit http://www.elearninfo247.com. Or, for more information on eLogic Learning's eSSential LMS, visit our website at http://www.elogiclearning.com/essential-lms.
About eLogic Learning
A leader in the eLearning industry, eLogic Learning offers organizations world class, comprehensive LMS technology and content solutions increase efficiencies and productivity and a strong ROI. The eLogic eSSential LMS supports over five million monthly users and was named the #1 LMS by E-Learning 24/7, the #1 All-Purpose Extended Enterprise LMS by Talented Learning, and Top 20 by Capterra. The eSSential LMS makes it easy to manage eLearning, instructor-led and virtual training events, keep up with regulatory compliance requirements, analyze training usage and results, sell courses online with robust ecommerce features, and much more.
In addition to its Learning Management System, eLogic develops custom eLearning content and provides an extensive third-party courseware library. With a comprehensive turnkey approach to implementing learning strategies, eLogic offers professional services and proven expertise in content strategy, business process change and the development of corporate training programs.