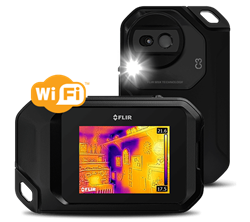 Beaverton, OR (PRWEB) August 25, 2017
Creative Safety Supply, Oregon's premier retailer of industrial safety and efficiency products, is proud to announce that its inventory has grown even larger with the addition of new items from UEI Test Instruments and FLIR Systems.
A reliable name in industrial test products, UEI offers a wide range of devices designed to measure everything; from weight and temperature, to humidity, and even local combustible gas levels, if you need an accurate measurement quickly, rely on UEI. Alongside a wide range of UEI devices, Creative Safety Supply also offers a number of accessories and spare parts. Need a K-type temperature probe adaptor for an electronic manometer? No problem. What if your Leak & Pressure Test Kit needs a replacement sensor? Creative Safety Supply has you covered.
Our new products from FLIR Systems, the world's leader in thermal imaging technology, include multimeters, an intuitive videoscope and camera probe kit, and, of course, multiple options for hunting down errant heat in your facility. From an infrared smartphone attachment to a quadcopter drone that feeds live thermal imaging footage to a pair of iPads, FLIR Systems products offer powerful thermal detection technology for any budget, and their intuitive design ensures anyone can learn to sniff out hot spots in mere moments.
For more info on Creative Safety Supply's new products from UEI and FLIR please visit creativesafetysupply.com, or call (866) 777-1360 to speak with a representative.
About Creative Safety Supply 
Creative Safety Supply is an online retailer of safety and lean manufacturing supplies for the workplace. The company's LabelTac® industrial label printers, SafetyTac® floor marking tapes and other visual communication products aid employers in making their facilities more visual. Creative Safety Supply works with businesses of all sizes and across many industries to help them improve safety, efficiency and effectiveness.