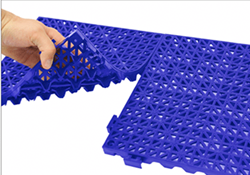 Washington, D.C. (PRWEB) August 23, 2017
Eagle Mat and Floor Products, a company that sells commercial building products that specializes in safety products, such as rental floor mats, announced a special summer discount today to help prevent pool injuries and accidents. For a limited time, shoppers can receive $25 off all purchases of $250 or more.
With over 150,000 injuries per year coming from pool and waterpark accidents, Eagle Mat and Floor Products is committed to making facility safety materials more accessible through promotions and discounts.
"Pool safety is something we take seriously," says Eagle Mat President Steven Blumberg "It is important to use some type of drainage mat to keep high traffic areas clean, dry and safe."
In addition to hundreds of commercial safety products, EagleMat.com provides several mats specifically designed for poolside surfaces.
The Vinyl Sponge Pool Mat controls water accumulation and prevent slips by trapping moisture and water beneath the mat's surface. Vinyl Sponge Pool Mats are available in both 3/8" and 1/2" thickness.
Dri-Dek Tiles offer a patented design that elevates foot traffic above moist floors to create a slip resistant walking surface. These are available in 12 vibrant colors and aptly protect any surface prone to moisture accumulation.
Turtle Tile Pool Mats come in a 12"x12" size and assemble seamlessly. Turtle Tiles are an ideal solution to transform slippery and dangerous pool decks into dry walkways. They are very durable and can withstand heavy foot traffic.
Safety Grid Pool Matting is common in locker rooms and showers and is constructed of non-porous PVC plastic. These mats feature a textured surface that provides premium traction with a layout that allows drainage to trap moisture and prevent mildew.
As summer ends and the new school year begins, many families are enjoying their last bit of warm weather before the season changes by heading to local water parks and pools. The potential increase in foot traffic this August makes replacing worn or torn pool mats imperative.
Use the coupon code SUMMER2017 to receive $25 off for orders $250 or more at EagleMat.com. This deal ends on August 31, 2017. For more information or assistance with ordering, contact Eagle Mat's customer representatives at 877-333-1018.
About Eagle Mat
Eagle Mat has provided commercial floor products, floor mats, and flooring services for almost 35 years. We began as a services company for commercial businesses in the Maryland, Washington DC, and Northern Virginia areas. We are proud to bring our commercial matting expertise online! We welcome all visitors to shop our wide selection of commercial mats and building products. Eagle Mat is proud to offer a 100% Price Match Guarantee and Free Shipping on almost all products. Now, visitors may rest assured that they will never pay more for their matting! We invite you to browse our comprehensive collection of industry-leading matting and property management products.