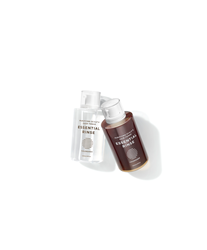 NEW YORK, NY (PRWEB) August 24, 2017
Internationally renowned hairstylist Younghee Kim releases her first haircare product, Essential Rinse™, a unique purifying scalp and hair toner made with 100 percent natural ingredients.
Essential Rinse™ naturally and gently removes the residue that haircare products leave behind, revealing a refreshed, clean scalp and shinier hair. Essential Rinse™ works in conjunction with each person's own shampoos and conditioners. In fact, Essential Rinse™ can help one's favorite products work even better.
Essential Rinse™ purifying scalp and hair toner is currently available in two formulations, Essential Rinse™ Clarifying with apple cider vinegar, and Essential Rinse™ Refreshing with essential oils of spearmint and peppermint. Both formulations naturally remove residue from hair and scalp, and are gentle enough for everyday use.
Use Essential Rinse™ after shampoo and before conditioning hair for best results. It can also be used as a quick refresh in-between shampoos or after a workout. Essential Rinse™ is suitable for everyone including men, women and children.
Essential Rinse™ Clarifying features apple cider vinegar (ACV) as its key ingredient, combined with a mild blend of lavender, chamomile, rose, and other botanicals to leave hair smelling wonderful. ACV has been known for centuries as an almost magical elixir for both hair and skin. ACV naturally removes residue and helps to balance the scalp's pH, which means shinier hair and a healthier scalp. The special recipe uses honey for an added moisturizing and conditioning benefit. Priced at $29.00 for 4 fluid ounces.
Essential Rinse™ Refreshing is formulated with essential oils of spearmint and peppermint. These two essential oils are renowned for their antibacterial properties as well as their ability to stimulate hair follicles and senses with a refreshing mint fragrance. This pH neutral formula is perfect for color-treated hair. Priced at $29.00 for 4 fluid ounces.
The Essential Rinse™ Clarifying product and the Essential Rinse™ Refreshing product are available at http://www.essentialrinse.com and at the Younghee Salon 64 North Moore Street, New York, NY. 10013. For more information visit http://www.essentialrinse.com, facebook.com/essentialrinse and instagram.com/essential_rinse.
ABOUT YOUNGHEE
Younghee Kim began her illustrious hairstyling career over thirty years ago with Vidal Sassoon, spending twelve years directing the VS vision as their New York City creative director. Younghee also styled hair for a multitude of editorial shoots, fashion shows and television commercials before opening her headquarters at the namesake Younghee Salon in Manhattan in the year 2000. The Younghee Salon now resides in the historic district of Tribeca, and has a devoted clientele from celebrities to media including beauty and fashion editors. Younghee also works with a select group of international clients in Europe and Asia.
Press Contact:
Tamara York
Tamara York Public Relations
tamara(at)tamarayorkpr(dot)com