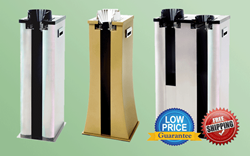 Washington, D.C. (PRWEB) August 23, 2017
The late summer season can bring frequent and unexpected downpours. Rain tracked indoors through umbrellas creates wet floor hazards, increasing the odds of slip and fall accidents in commercial and all work spaces. To promote facility safety measures during expected heavy rains, Umbrella Bagger is offering a $25 discount on all Automatic Wet Umbrella Wrapper purchases of $250 or more. Available in single and double dispenser options, the Automatic Wet Umbrella Wrapper mechanically stows customers' and employees' dripping umbrellas in a single, swift motion.
Of the summer deal, UmbrellaBagger.com's President said, "Our products are immensely popular with building owners. The safety and convenience that the Automatic Wet Umbrella Wrapper provides for customers is undeniable."
Patrons and employees entering a business with their wet umbrellas cause an immediate hazard that can lead to serious accidents and injuries. According to Occupational Health and Safety Administration (OSHA) guidelines, employers or business owners are responsible for maintaining floors "in a clean and, so far as possible, dry condition." The rule was put in place specifically to prevent slips, trips, falls and other hazards. Failure to abide by OSHA's provisions can lead to expensive fines ranging from $12,000 to over $100,000.
UmbrellaBagger.com offers the Automatic Wet Umbrella Wrapper in a variety of options to help businesses, their customers and employees avoid preventable slip and fall incidents. The Single Dispenser Wrapper works specifically with standard size umbrellas. Its automatic wrapping mechanism stows wet umbrellas with ease, minimizing clean up throughout the day.
For businesses with heavier traffic flow, the double dispenser option is ideal. It automatically wraps both traditional long and shorter folding umbrellas efficiently. The device also features wheels on the back, making it easier to move depending on traffic flow. As an added bonus to building owners, neither the single or double dispenser require any electric power.
The Automatic Wet Umbrella Wrapper not only provides adequate safety, it enhances the shopping experience by giving customers a quick and easy way to wrap up their wet umbrellas. No more clumsy attempts at placing wet umbrellas into troublesome plastic bags.
All dispensers are eligible for free shipping and include a price match guarantee. UmbrellaBagger.com is offering the special $25 off coupon (SUMMER2017) off orders $250 or more until August 31, 2017. For more information, shop wet umbrella bag stands on UmbrellaBagger.com or call 855-328-8100 for more information.
About UmbrellaBagger.com
UmbrellaBagger.com proudly represents the finest in umbrella baggers, umbrella stands, and other facility safety products. We stand committed to delivering superior customer service through our core values: Safety, Quality, Cleanliness, Convenience, and Professional Aesthetics.