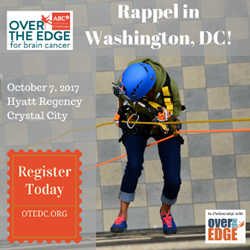 Washington, D.C. (PRWEB) August 25, 2017
On Saturday, October 7, more than 40 brave participants or "edgers" will show both their fearlessness and their dedication to promoting brain cancer research as they rappel down the Hyatt Regency Crystal City and go Over the Edge for Brain Cancer.
Now in its second year, the annual event has received an overwhelming amount of support from the local community, with over $18,000 already raised. Participants must raise a minimum of $1,500 in order to rappel, and no experience is necessary – just a drive to make a difference!
Interested in participating? Please visit: http://www.otedc.org/
Confirmed sponsors and partners for this year's event include: The Hyatt Regency Crystal City, Rock By The Sea, SportRock Climbing Center, FuseBox Radio Broadcast and Anthology Communications.
When: Saturday, October 7, 2017
Where: Hyatt Regency Crystal City; 2799 Jefferson Davis Hwy Arlington VA 22202 – 3rd Floor Terrace
What: Over the Edge for Brain Cancer is a unique and exciting opportunity in which participants or "edgers" rappel down the Hyatt Regency Crystal City, an 18-story building with breathtaking views of the nation's capital. Edgers raise a minimum of $1,500 to participate and have 30 days after the rappel to fundraise. All event proceeds benefit brain cancer research.
Why:

Brain cancer is the leading cause of cancer deaths among children and young adults. Today in the U.S., 42 men, women and children lost their lives to brain cancer.
Brain cancer is extremely heterogeneous, with 120 different types of tumors, all of which have unknown causes.
Brain cancer is not as rare as you might think. Today there are nearly 700,000 people in the US living with a brain tumor diagnosis and another 79,000 new cases are expected this year. For instance, Senator McCain is one of 12,000 people in the United States who will be diagnosed with glioblastoma multiforme, and aggressive form of brain cancer. The median life expectancy of someone with glioblastoma is about 18 months.
About ABC² (Accelerate Brain Cancer Cure)
ABC² is focused on speeding the discovery of a cure for brain cancer. By applying an aggressive, venture funding approach not typically seen in the nonprofit sector, ABC² closes current gaps in funding in order to catalyze research and rapidly bring new therapies to patients. ABC² has awarded more than 100 grants totaling $20 million in brain tumor research funding to highly qualified investigators and physician-scientists from 54 institutions and companies. Since its founding in 2001, ABC² has helped bring 30 different treatments into the clinic. To learn more, visit http://www.abc2.org.
# # #