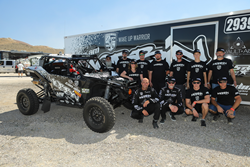 Reno, Nevada (PRWEB) August 24, 2017
Mobbin Racing's Michael Isom teamed up with co-driver Garrett White to finish third in the Vegas-to-Reno Best in the Desert Series race on Saturday, Aug. 19. The pair were racing a Can-Am Maverick X3 in the Pro Unlimited UTV class.
White is one of three guest co-drivers that have competed with Isom this season. Not only are the two men personal friends, Isom also provides financial planning for White's Wake up Warrior foundation.
While challenging for the lead just after pit six, Isom and Garrett were sidelined with a wiring issue. They were towed to pit seven where the Mobbin Racing team repaired a frayed wiring loom and got them back on track. The quick teamwork allowed them to come away with the podium finish.
"We were clipping along very well, the car was handling awesome and Garrett did an amazing job navigating," said Isom. "After the repairs, it was full-on race mode. We made up a lot of time in the second half of the race and the car performed excellent. Our crew worked flawlessly."
Isom is teaming with people this year to allow them to experience the teamwork and tenacity it takes to compete in desert racing. White had no previous racing experience, but came away a veteran.
"No man can race alone and win," said White. "As I got completely into the flow with Michael and as the miles continued to stack on top of each other, I got into a rhythm with him. Without the pit crew, the sponsors, the volunteers, or the BITD officials, none of this could have been possible. It was all about teamwork."
That teamwork is what got them back on track and back into contention. Isom has worked with his team to bring that sense of family into the team.
"We allowed our pit crew to bring the racing into their personal lives," said Isom. "We had a father-son part of the pit crew. They look forward to each race and coming together."
Isom said he's been fortunate in life and wants to share his racing experience. Hence why he is bringing in different co-drivers at each race.
"Garrett and I have a long history together and I was super excited to share this experience with him," said Isom. "It takes a lot of preparation: mentally and physically. The machine has to be prepared. You need a good pit crew. This race is about adventure and growth."
Isom will return to the BITD competition during the Silver State 150, scheduled for September 23-24 in Caliente, Nevada.
About Michael Isom and Vault AIS
Michael Isom is an entrepreneur, educator, speaker, wealth strategist, consultant and owner of Vault AIS. Isom is also the author of "What Would the Rockefellers Do?" published in 2016. He specializes in macroeconomics and the utilization of the #1 Asset, the #1 Investment, and the #1 Strategy in the market today.
About Garrett J. White
Garrett White is known as the "Master Coach Mentor." A successful entrepreneur, he is the creator of the Wake Up Warrior Project which mentors married businessmen on how to be successful in all aspects of life.